When I started my business, I was far from a content strategy or digital marketing expert. I launched BAUCE Magazine with an English degree and a dream: To create a lifestyle site that would help women from disadvantaged backgrounds attain wealth, build their empires, and look good while doing it.
So, I just wrote the kind of content I'd like to read, everything from career development tips to what Beyoncé wore last weekend. To distribute it, I'd reach out to friends and colleagues and ask them to like my Facebook page (yes, this was when people still liked Facebook pages). This generated a decent organic reach for a while—and then, the algorithm changed, my reach suffered, and I realized it was time to get much more strategic with my approach.
I started looking at performance data to strategically decide what types of content I should be investing in. I started learning about Search Engine Optimization (SEO) and looking for other ways to get more visibility to my content. I learned about ways I could appeal to search engines while still having my content perform well on social—and how, in fact, SEO could help me perform better on some social networks. I kept at it and, about five years later, I noticed a marked increase in our metrics. Today, I get 400,000 impressions on my content monthly, primarily from search and targeted social media channels.
This process took work, but not nearly as much as you might think. In fact, the hardest part was unlearning some myths I believed about building a business using content. Even if you're not a blogger or publisher, I hope the lessons I learned and strategies I used can help you improve your content marketing and reliably see more potential customers landing on your site.
I used data, not instincts, to understand my audience
At the start, my content "strategy" was writing the kind of content I was interested in. As a member of my target audience, it seemed like, if I wrote something I'd want to read, others would stop their scroll and click through to it, too. It was hard to realize that, just because I am my end user, doesn't mean everyone in my audience is exactly like me. Sure, we all share a common trait—a desire to be self-made—but we're all coming at it from a different path.
This meant I had to take a look under the hood and learn about my users' paths. Specifically, I used Google Analytics to deep dive into what content led to continued engagement, and what lost people. For instance, by looking at impressions and time on site, I could see that my users engaged most when I had resourceful evergreen content and interviews with other Black, female, self-made millionaires. By looking at the bounce rate, I could see that, even if readers were clicking on entertainment and beauty content from our social posts, they weren't sticking around.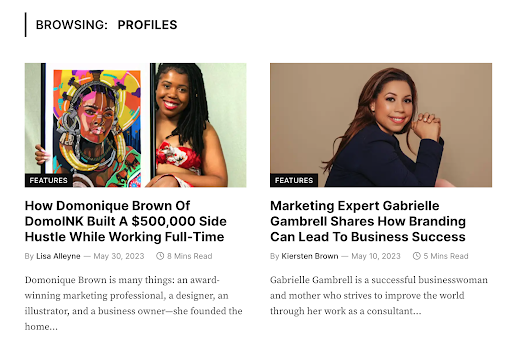 Digging even deeper into user paths on the site, I could see that many people would arrive on the site through an interview article, but then keep engaging by clicking on more tactical articles like how to improve their business or manage their money. Seeing this flow helped me decide to cut the more fluffy, lifestyle content and double down on actionable articles that help readers succeed in growing their wealth.
Taking a step back, realizing I'm not the expert on what my users want, and instead letting the data guide me was life-saving for the brand and business. Today, I review metrics monthly to see what content performed well (and what didn't work), then assign stories for the next month based on this analysis. Just because I'm similar to my users, doesn't mean I know everything about them. Luckily, the data on how they interact with my content is telling me everything I need to know.
One of my biggest roadblocks was telling myself I wasn't good at numbers, which stopped me from even attempting to look at them. On top of that, I was so busy creating all of this content and running the business that the thought of spending time trying to dig into the data was overwhelming.
Things changed when I realized I didn't have to be a data scientist to learn enough to push my brand forward. Even just a cursory glance at the numbers could tell me so much more than not looking at them at all.
I started dipping my toes in by using simple analytics tools, like the Buffer dashboard about content performance on social media or the very basic numbers in Google Analytics: pageviews, unique sessions, time spent on site, average pages per session, acquisition paths. That helped me understand how data could tell a story—and how that story could accelerate the growth of my brand. I became motivated to learn more, devouring YouTube tutorials to help me work smarter and not harder when it came to understanding my metrics. I learned how to compare qualitative and quantitative data to get a complete story around why there were changes month to month. For example, changing a website theme could lead to lower bounce rate, or UX updates on our homepage could allow users to scroll more and thus spend more time on site.
This same approach of not needing to be an expert to reap the benefits of a strategy benefitted me when it came to SEO as well. I used tools that made this often-overwhelming topic easier for a beginner: The Moz Keyword Explorer in particular helped me identify long-tail keywords we should target, which I would then try and create a few articles around. I looked for experts I could learn best practices from: Neil Patel's blog helped me learn about everything from technical improvements I should make to the ins and outs of backlinking.
I doubt my SEO strategy has ever been perfect, and there's certainly more I could do—but doing something imperfectly was better than doing nothing at all. If I hadn't started to improve my SEO step by step when I did, I wouldn't have 80 percent of my traffic coming from search today.
I reworked my social strategy to include SEO
I had very naive ideas about content distribution early on. I thought that if I could get people to follow me on social media, they would engage with my posts and that would drive all the traffic I needed.
Now, I understand that it's not that simple. Having good content isn't enough if that content isn't getting in front of the right people. And having a lot of followers isn't enough if algorithms are preventing your content from getting in front of them. To help my content succeed, I not only needed to get more strategic in what I was creating, but in how I was distributing it.
So, instead of only focusing on sharing our content on social media, I looked for ways to align our social strategy with SEO best practices. For instance, I learned that I could still write clickbait headlines that would appeal on social media (e.g., "Here's How To Trick Yourself Into Saving More Money"), while writing an alternate, keyword-driven headline in the backend that would appeal to search platforms (e.g., "15 Clever Money-Saving Strategies That Will Increase Your Bank Account")
I also started bringing SEO strategy into our social posting. For instance, I started sharing more on Pinterest and Linkedin with targeted keywords in the descriptions, since people tend to use those platforms like search engines. Using keywords for hashtags and alt text on Instagram has helped new readers discover us on that platform as well.
Things online are constantly changing. While this refreshed content strategy has consistently helped my business grow over the past several years, it might not always work. For instance, with the growth of AI, I am starting to think about how we can improve our operations without decreasing the quality of our content—and also how it might impact my industry as a whole. But I'm confident that, with my willingness to let my users guide me, dive into tools and techniques that are new to me, and not let perfect be the enemy of the good, I'll always find a way to get my company's expertise in front of new people.