Table of Contents
Introduction
Since Twitter's change in ownership in late 2022, several alternative apps have emerged, each with its own level of popularity. With the abundance of options available, it can be overwhelming to choose. In this article, we will explore five alternative social media platforms that you should consider. Let's dive in and discover what each platform has to offer.
Mastodon: A Decentralized Social Network
Mastodon, a familiar name for many, experienced a surge in users during the Twitter takeover and has been considered the top contender for user migration.
As of June 2023, Mastodon boasts over 1.3 million monthly active users.
Mastodon operates as a decentralized network, allowing users to create accounts within distinct communities while retaining access to others. It is based on an open-source, "federated" concept where different servers use the same protocol to communicate and share content.
These servers, known as instances, enable users to form communities on Mastodon without the need to build the entire infrastructure from scratch. Server operators oversee the activities of users on their respective servers.
Key Features of Mastodon:
Multiple Network Options: Users can choose the network they wish to join, with nearly 10,000 active communities to select from. The default network for new users is "mastodon.social," but they have the freedom to choose any other network.
Ad-Free Environment: Mastodon has no advertisements, and there are no plans to introduce them in the future. The founder has stated that users can publish ads on their servers, but it would be at their own risk.
Interconnected Feed: When you create an account on one server, you can still see and interact with activities on other servers through your feed.
Versatile Posting: Users can create posts of up to 500 characters and share images, videos, and links.
Use Cases for Mastodon:
Targeted Communities: Mastodon provides specialized servers, making it ideal for reaching highly specific audiences and communities.
Personalized Feeds: By creating your own instance or joining an existing one, you can curate a personalized feed tailored to your audience's preferences and engage in meaningful conversations.
Cross-Platform Presence: Many users and brands that migrated from Twitter cross-post their content on Mastodon, enabling you to find the Mastodon version of your favorite accounts.
Available on: Web, iOS, Android
Threads/Project 92/Barcelona: Meta's Twitter Competitor
Rumors began circulating in January 2023 that Meta (formerly Facebook) was developing a "Twitter competitor," codenamed Project 92. In May, leaks confirmed the existence of this project.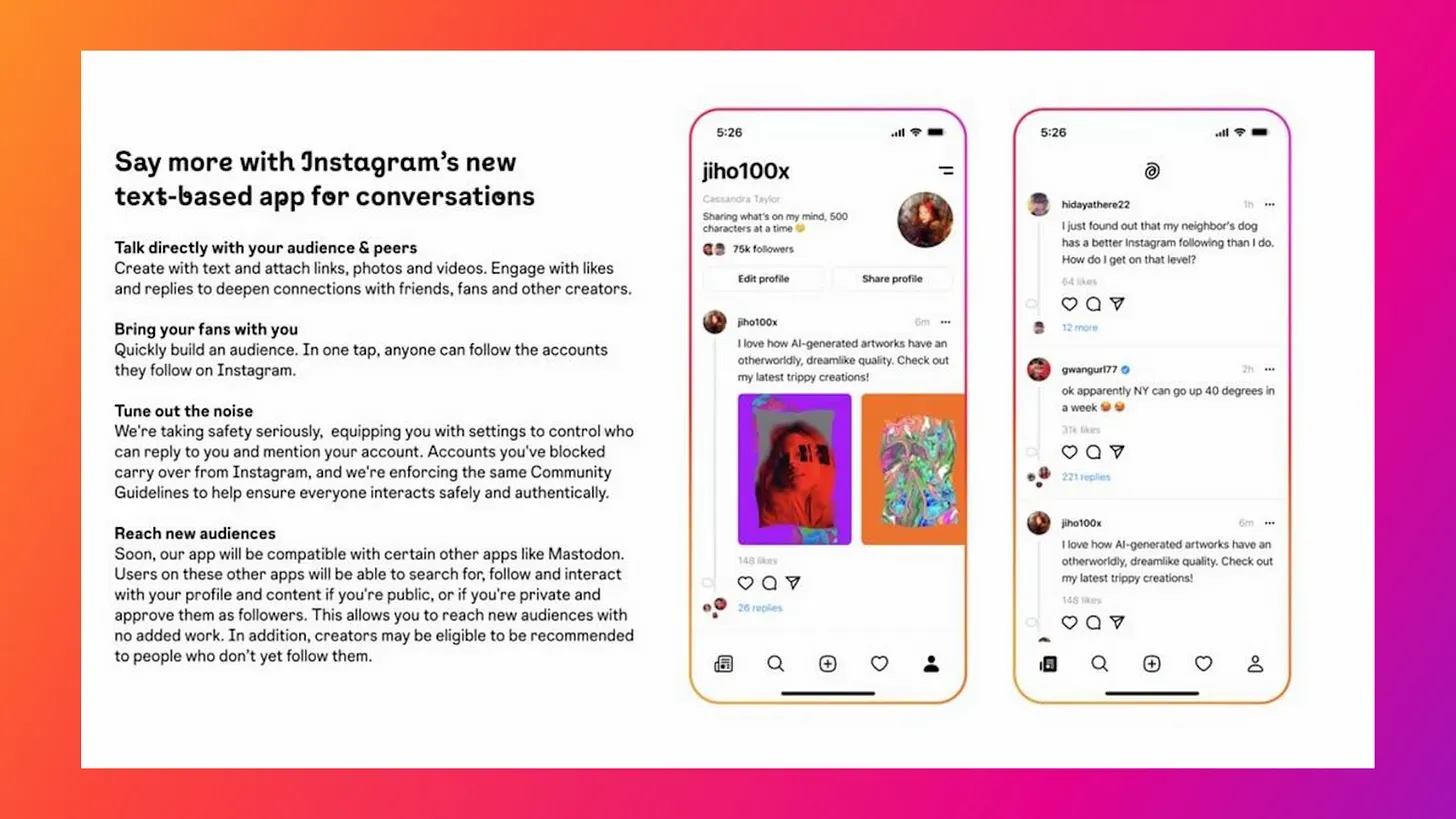 The app, expected to be named Threads, integrates with users' Instagram information and utilizes Instagram's account system for automatic profile population.
Meta's chief product officer, Chris Cox, emphasized the app's focus on safety, ease of use, and reliability, aiming to provide creators with a stable platform to build and grow their audiences.
While official information about the app is scarce, details shared in Lia Haberman's ICYMI newsletter suggest a potential release date as early as July 2023. Here are some key insights:
Instagram Integration: Threads is built on Instagram's framework, allowing users to sign in with their Instagram credentials and synchronize their follower list, handle, bio, and verification status.
Interactivity: Users from other apps will be able to search for, follow, and engage with your profile and content, indicating a decentralized app built on the ActivityPub protocol.
Diverse Content Creation: Threads offers various content creation options, including text updates (500 characters), links, photos, and videos (up to 5 minutes).
Familiar Social Features: Threads retains familiar social media features such as likes, replies, reposts, and user-controlled replies and mentions.
Consistency with Instagram: Blocked accounts and hidden words on Instagram will carry over to Threads, and the community guidelines will remain the same.
Available on: Not yet released
Bluesky: A Decentralized Social Network
Bluesky, endorsed by Twitter co-founder and former CEO Jack Dorsey, has gained considerable popularity, second only to Mastodon. The app has been downloaded over 375,000 times and boasts approximately 50,000 registered users.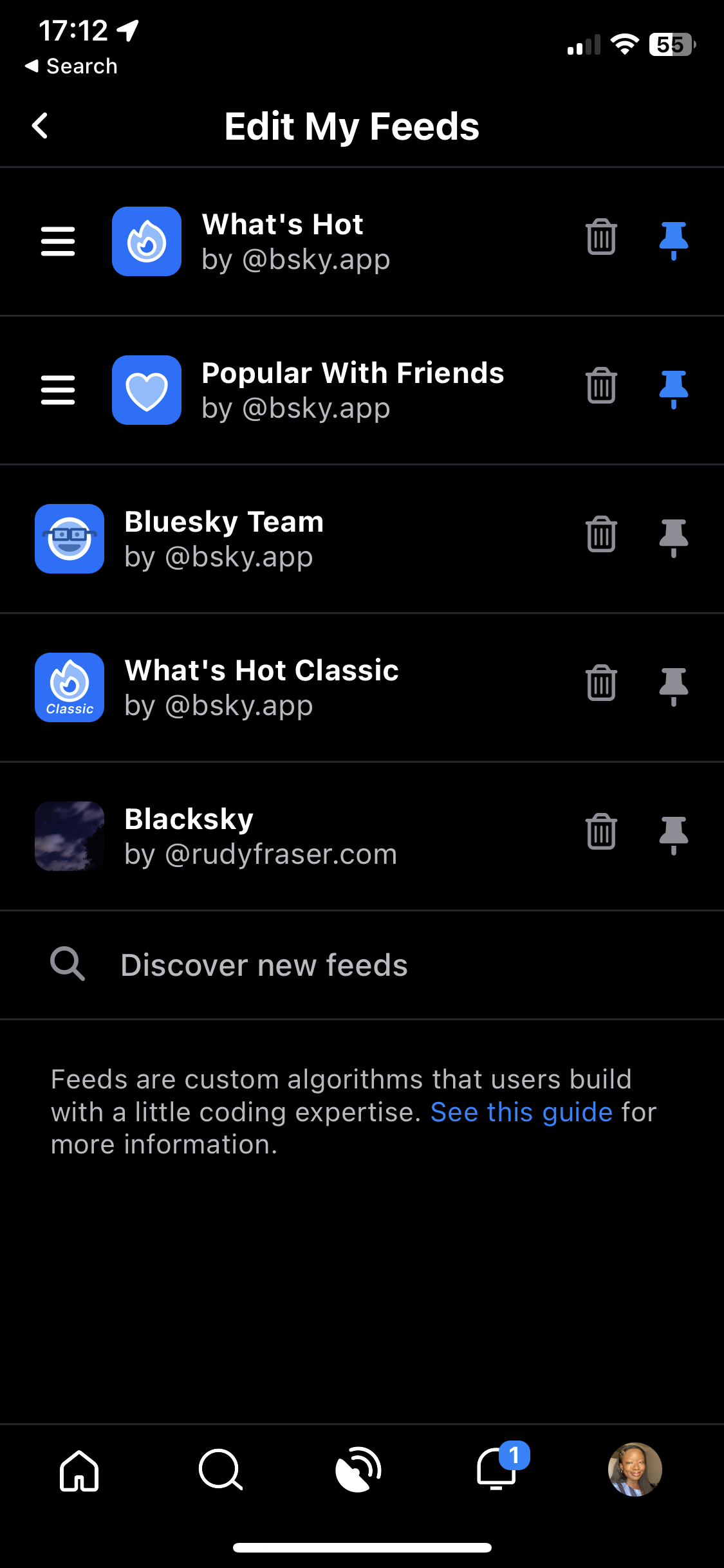 Bluesky operates as a decentralized social network similar to Mastodon, allowing users to share short text updates through various providers rather than relying on a central platform. The default provider is bsky.social, but users can customize their domain names as their Bluesky usernames.
Key Features of Bluesky:
Customizable Content Feeds: Bluesky enables users to choose and create their own algorithms called "Feeds," allowing customization of the content displayed. Available options include "What's Hot" for trending content and "Blacksky" for posts from Black users.
Robust Moderation Tools: Bluesky takes moderation seriously, providing users with the ability to filter content, mute lists, block accounts, and more, with continuous updates in progress.
Use Cases for Bluesky:
Tailored Content Curation: Create an algorithmic feed that showcases your content and related news, catering to your account's unique requirements.
Enhanced Brand Presence: Manage your account from a custom domain, enhancing verification and fostering cohesion among individuals and brands associated with your organization.
Available on: Web (in progress), iOS, Android
Post News: A Platform for News
Post News positions itself as a social platform designed specifically for news, filling the void left by Twitter's shift in focus on verification and trusted news sources.
Since its public launch in February, Post has attracted over 440,000 users, including journalists, subject matter experts, and academics, along with more than 30 premium publishers.
Post aims to enable publishers to generate revenue from micropayments, allowing users to pay a small amount for each news item they choose to read rather than subscribing to multiple publications.
Key Features of Post News:
Article-based Content: Users can write articles of any length and engage with them through likes, reposts, and replies.
Micropayments: Reading articles on Post requires points, which users can purchase in bundles. Each point costs $0.01, and bundles range from 300 ($4.20) to 10,000 points ($126.70).
Support for Creators and Publishers: Users can choose to tip creators and publishers on the platform, fostering a system of incentivizing quality content.
Use Cases for Post News:
News Updates for Existing Audience: If you already share paywalled content through other channels like newsletters or Patreon, Post News offers an opportunity to reach your audience while continuing to monetize your content.
Full-length Articles: With no character limit, Post allows you to publish complete articles, providing a seamless reading experience for your audience.
Available on: Web, iOS, Android (coming soon)
T2 Social: A Familiar Interface
T2 Social, founded by Gabor Cselle and Sarah Oh, closely resembles Twitter in terms of user interface, post style, and overall vibe. This resemblance can be
attributed to Sarah Oh's previous experience as a Human Rights Advisor at Twitter.
T2 Social currently has a smaller user base, with approximately 7,500 users as of June 2023.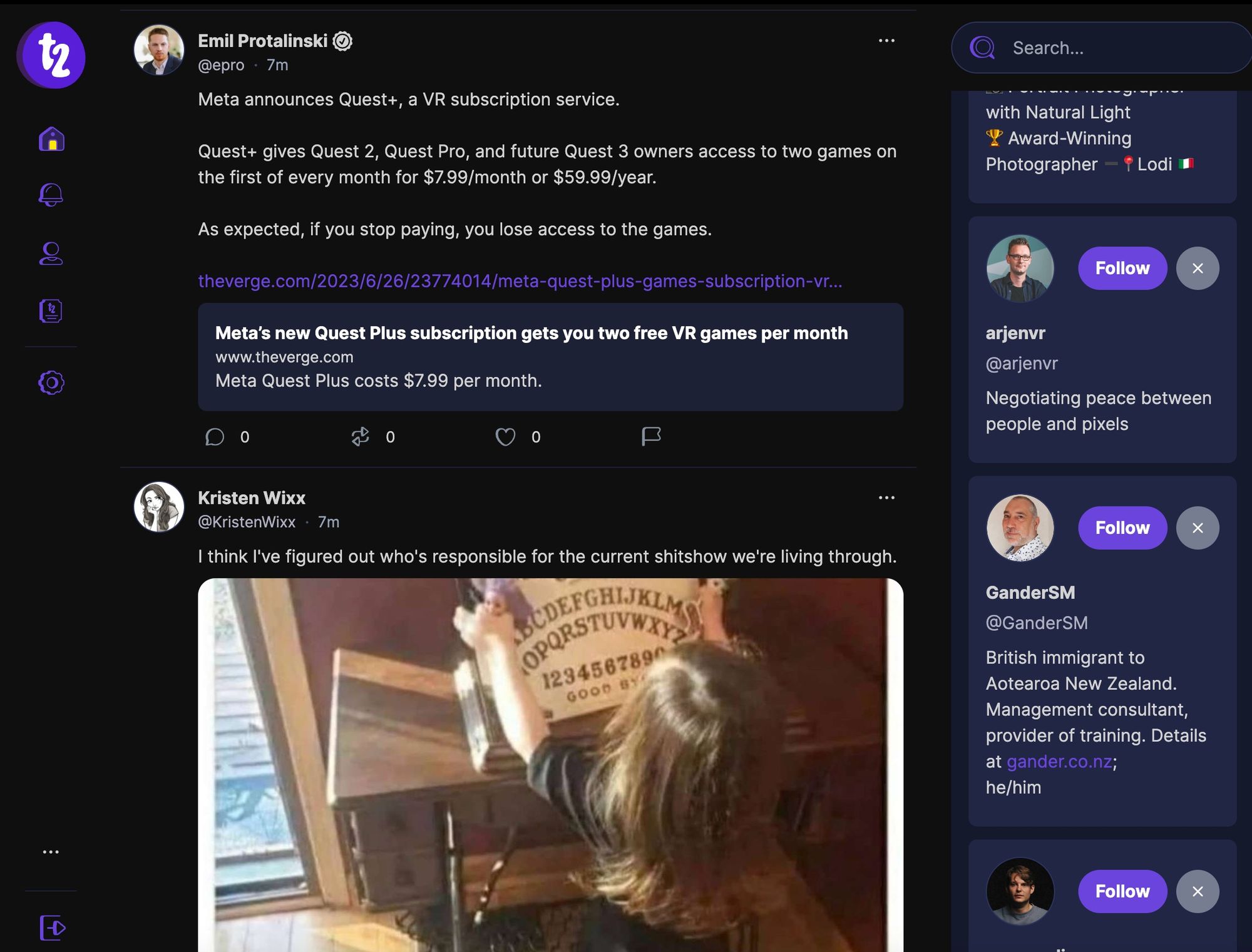 Key Features of T2 Social:
Short Posts: Users can write posts of up to 280 characters, add photos, and engage with content through replies, reposts, and likes.
Twitter Integration: T2 Social allows users to connect their Twitter accounts to their T2 profiles.
Checkmark Verification: Legacy checkmark holders on Twitter can claim their T2 checkmark by filling out a form. Others can schedule an interview with Sarah to potentially receive a checkmark in August.
Use Cases for T2 Social:
Alternative to Twitter: If you're seeking a centralized alternative to Twitter with a simple interface, T2 Social could be the platform for you.
High Engagement: T2 Social's smaller user base leads to increased engagement, making it easier to grow a following and connect with like-minded individuals.
Available on: Web, Desktop
Spill: A Visual-First Platform
Founded by ex-Twitter employees, Spill differentiates itself from other platforms by prioritizing visual content, reminiscent of Tumblr's style and feel.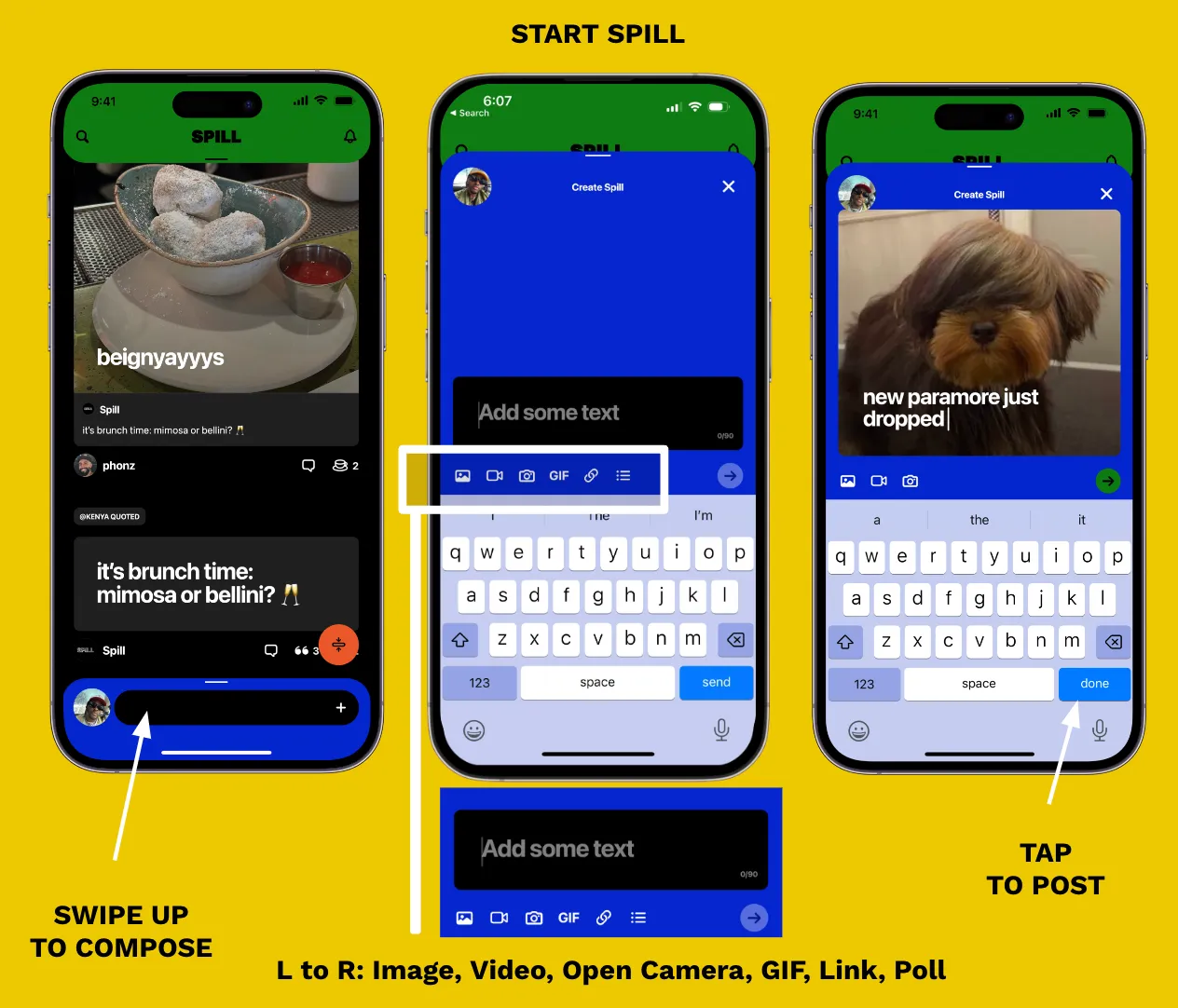 When you open the app, you'll encounter a feed featuring recent posts from people you're "sipping" (similar to following) and algorithmically curated posts. The top menu provides access to trending posts and hashtags, while the bottom menu allows users to post text, gifs, videos, photos, links, and polls.
Spill distinguishes itself by prioritizing diverse communities, with a focus on underserved culture drivers.
Key Features of Spill:
Visual Focus: Spill emphasizes visual content, allowing users to post a variety of media formats.
Language Learning Model: Spill is developing a large language learning model to enhance content moderation, particularly in understanding Black dialects such as AAVE.
Blockchain-based Features: Spill plans to introduce blockchain-based creator features to reward users who initiate viral trends.
Incentivized Engagement: Users receive a "rep score" to encourage positive behavior and reward active users, regardless of their audience size.
"Tea Parties": Spill is developing a feature called "tea parties" where users can host online and offline events and receive in-app bonuses, such as post boosting, without monetary transactions.
Available on: iOS (beta)
In conclusion, these alternative social media platforms share a common theme of decentralization, driven by user concerns regarding data privacy and content moderation. By embracing open-source protocols and innovative technologies, these platforms offer users greater control over their online presence.
As creators and users, it is essential to stay informed about these developments and explore these platforms to adapt to the evolving landscape of online communication. By actively engaging with decentralized social networks, you can better prepare yourself for future changes.