[ad_1]
I've attended BrightonSEO for 10 years, but this year's conference was one of my all-time favorites. (And it looks like the rest of the team also enjoyed it!)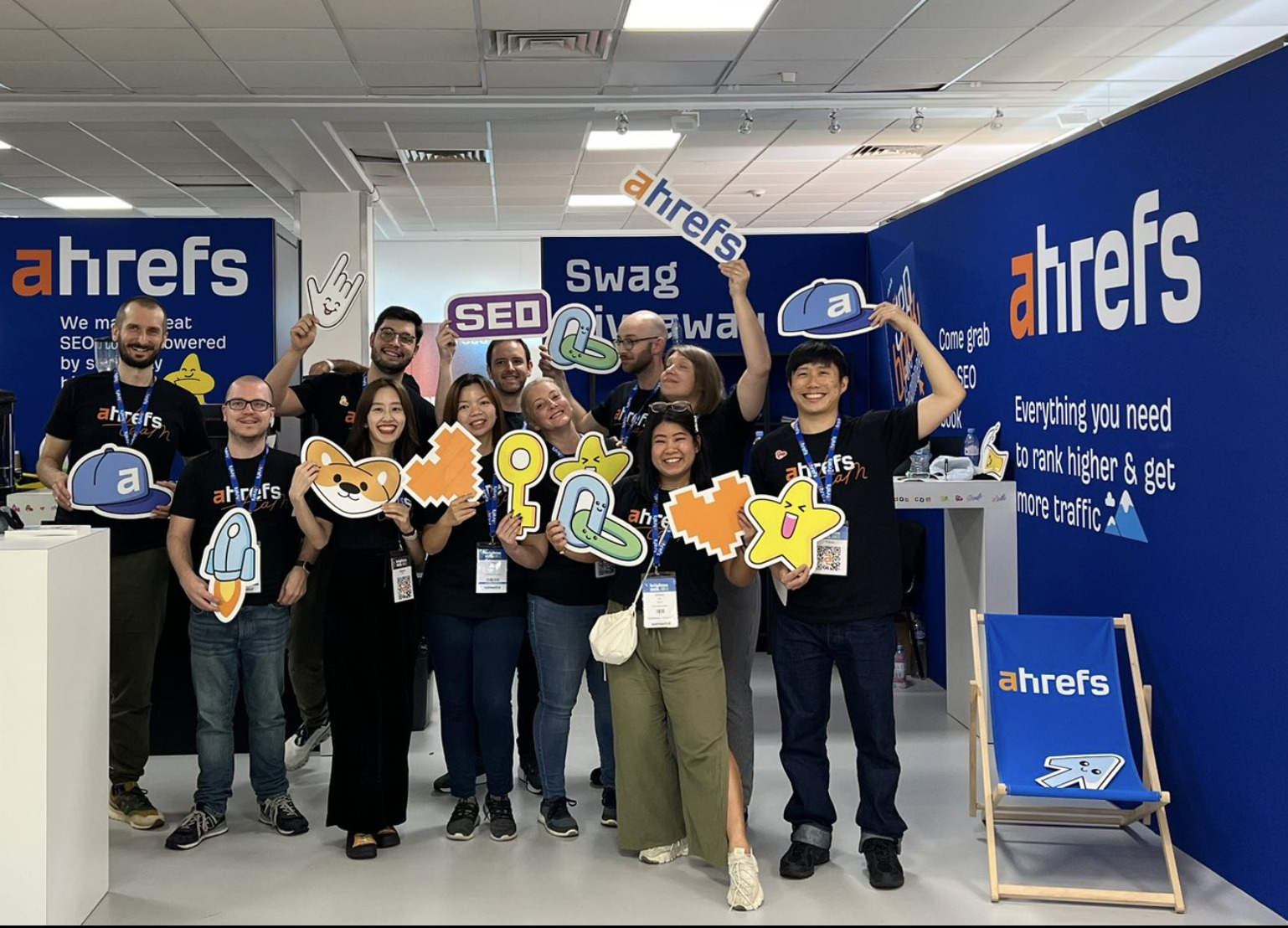 Here's my breakdown of September's event and why I think it's come a long way since its humble beginnings in a room above a pub.
OK, I know what you're thinking: The U.K. is not the first place you think of when it comes to the sun. But we got lucky and had great weather the whole time we were at BrightonSEO.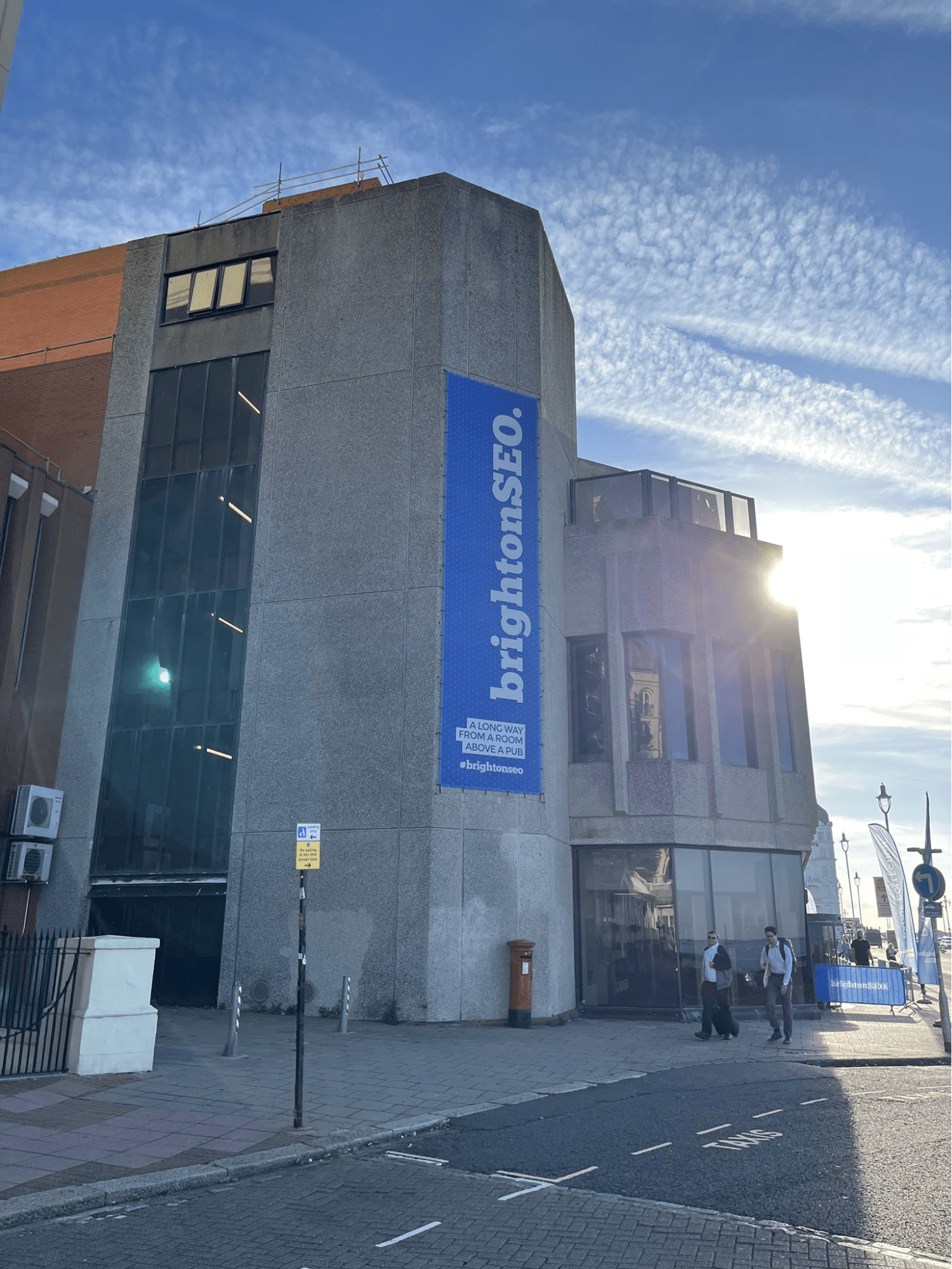 With the weather getting the event off to a good start, it put a smile on everyone's face as soon as they arrived.
On Wednesday evening, before the main conference, we ran our first SEO workshop and networking event.
It was hosted at the Ye Olde King & Queen—a very British-looking pub built in 1779.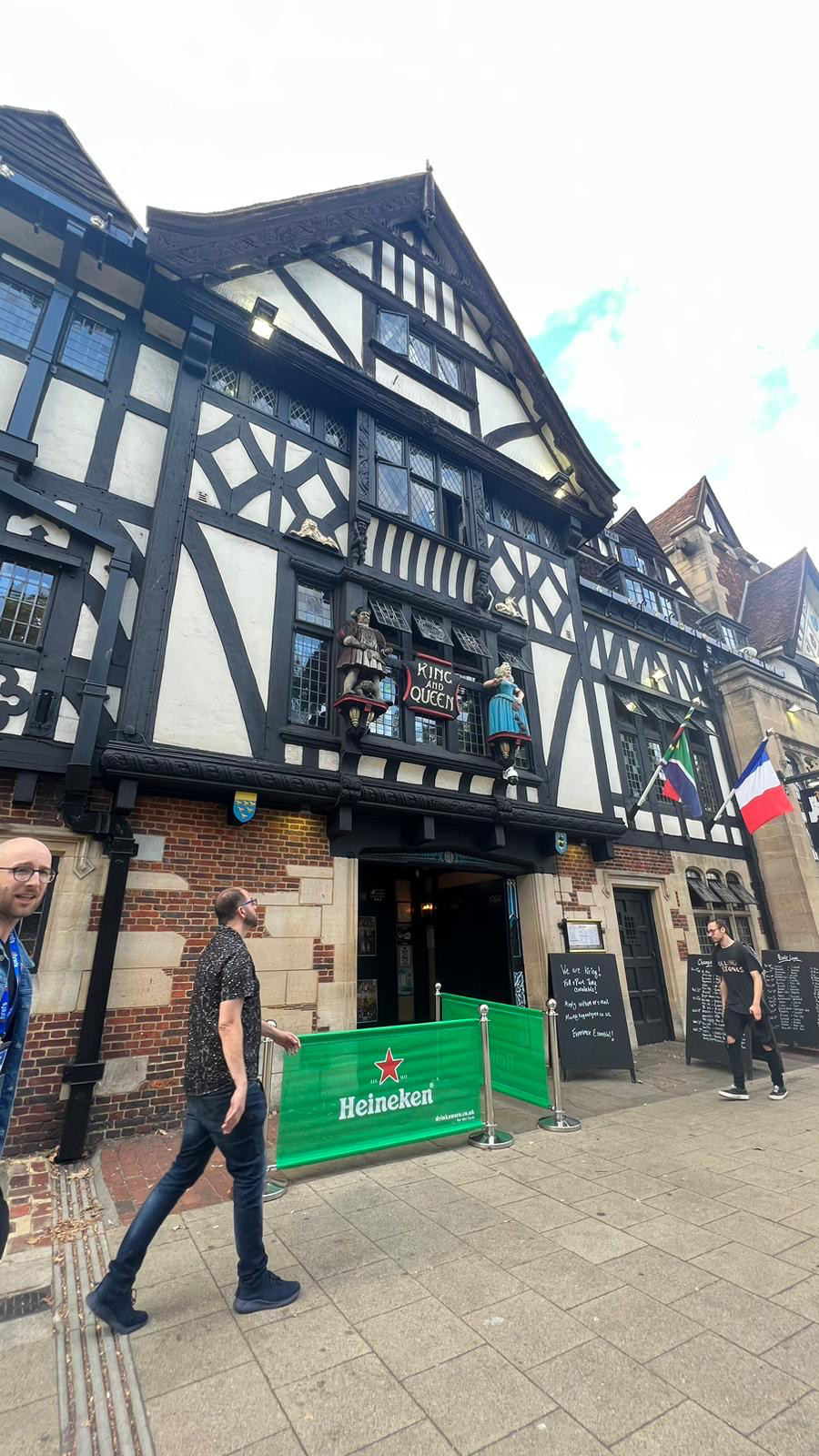 The workshop was held in a room above a pub in true Brighton style. The room had a cozy ambiance for attendees to get together, talk shop, and grab some swag.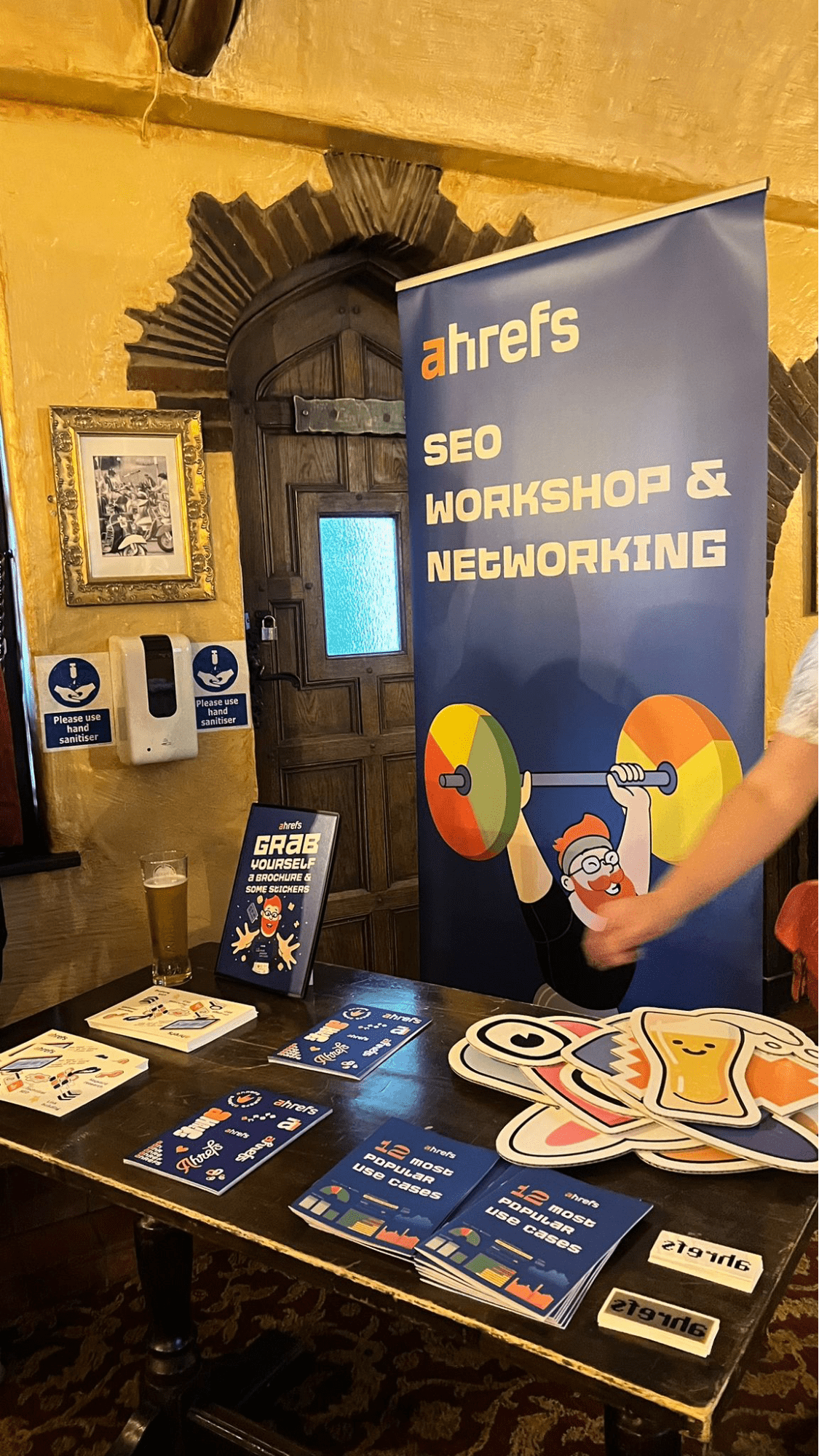 Michelle Lindner kicked the night off by warmly welcoming our guests and guiding them through a live demonstration on how to do keyword research for SEO using Ahrefs.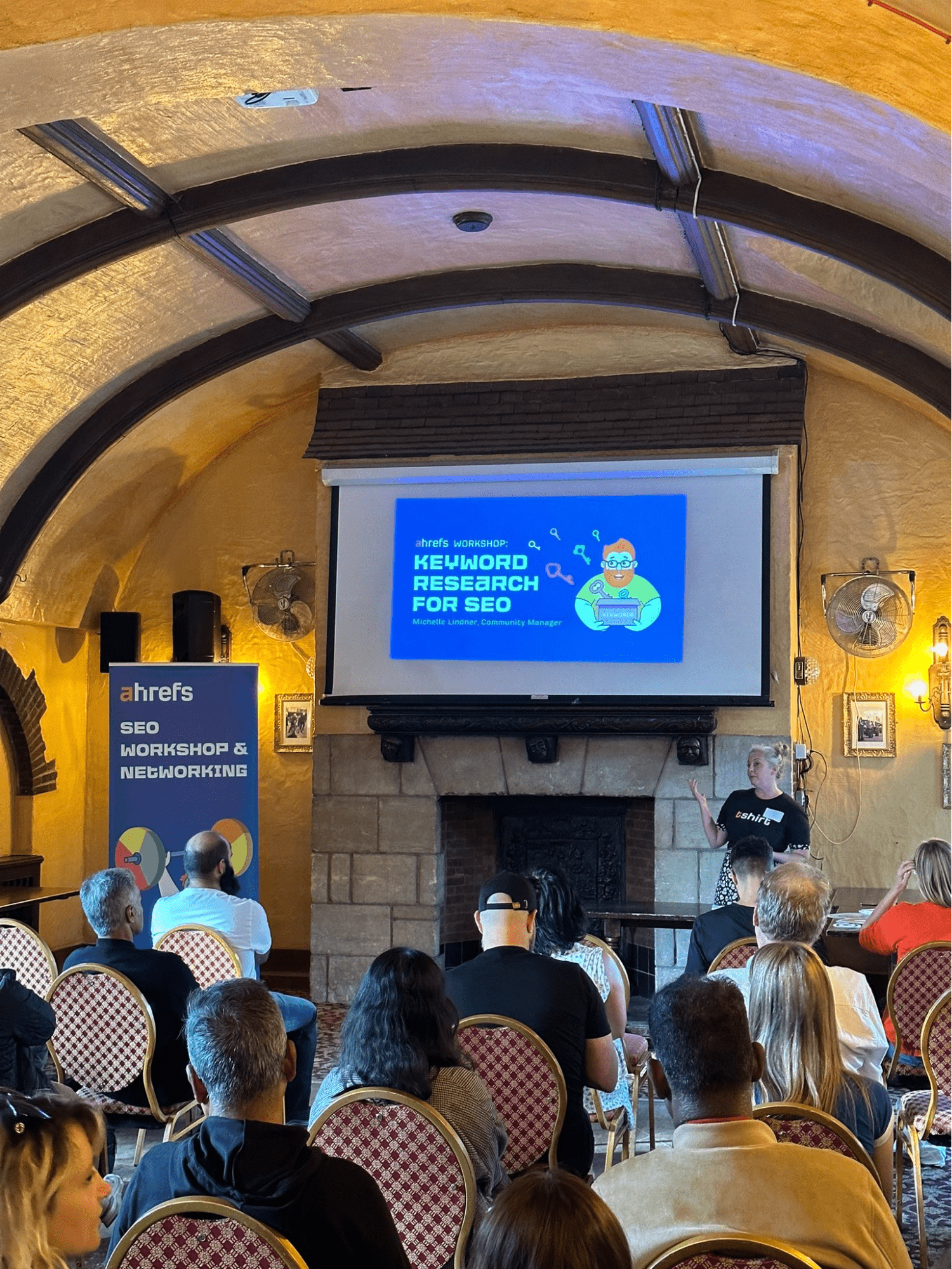 After Michelle's demonstration, Joshua Hardwick took to the stage to guide us through a case study on how to build high-authority links that help boost rankings.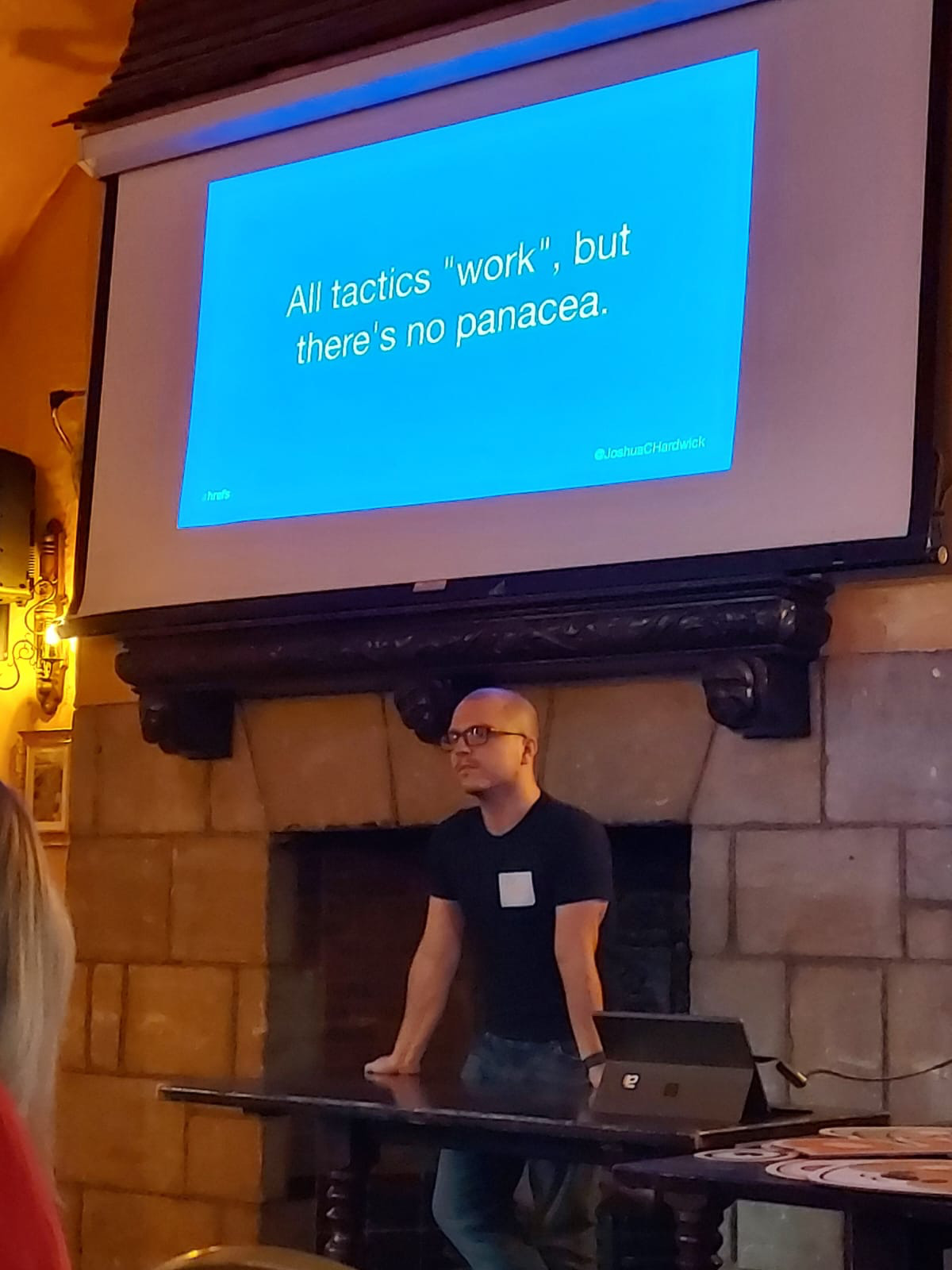 There was then time to network and mingle with other SEOs and digital enthusiasts over a few beers and a buffet.
Thank you to everyone who attended!
Once we'd got our BrightonSEO exhibitor stand fully stocked and brochures arranged, we were ready to go.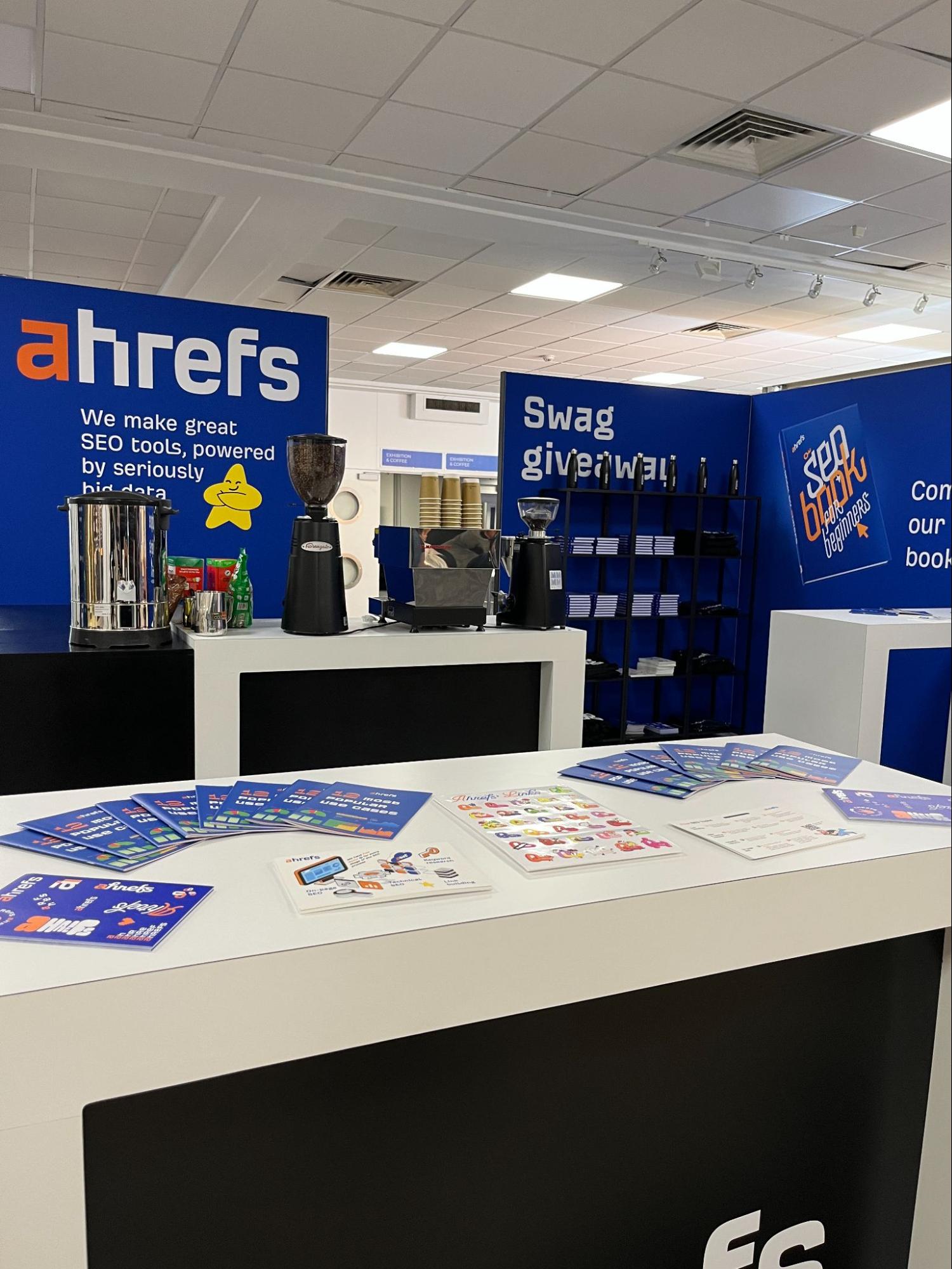 We'd learned from previous BrightonSEOs that it could get very busy in the morning, and this event proved no different.
Within minutes of the gates opening, the conference hall was buzzing with activity as SEOs and marketers navigated their way around the venue.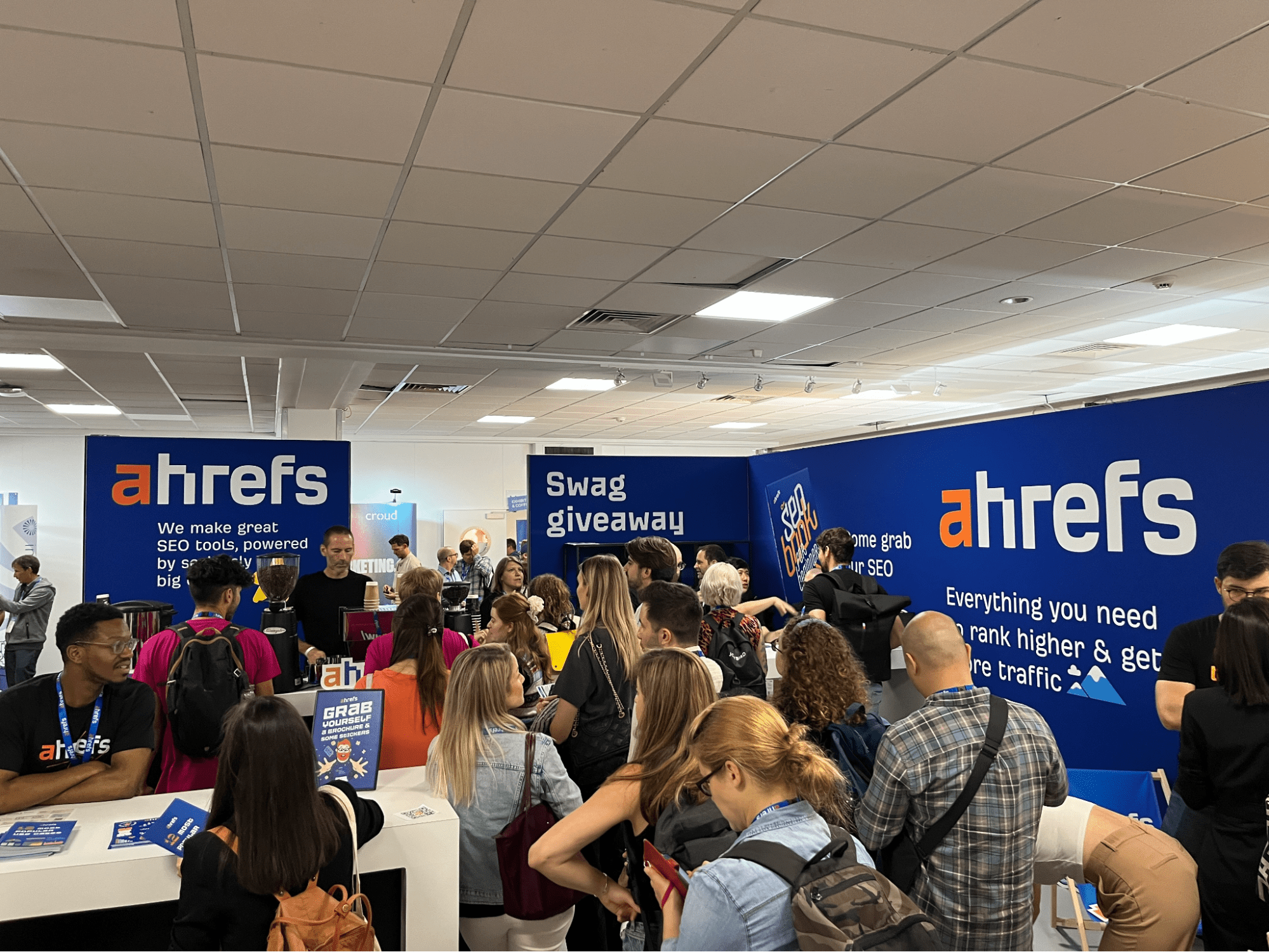 We provided freshly ground coffee at our stand, which was well received by attendees. (We even spotted John Mueller having a cup.)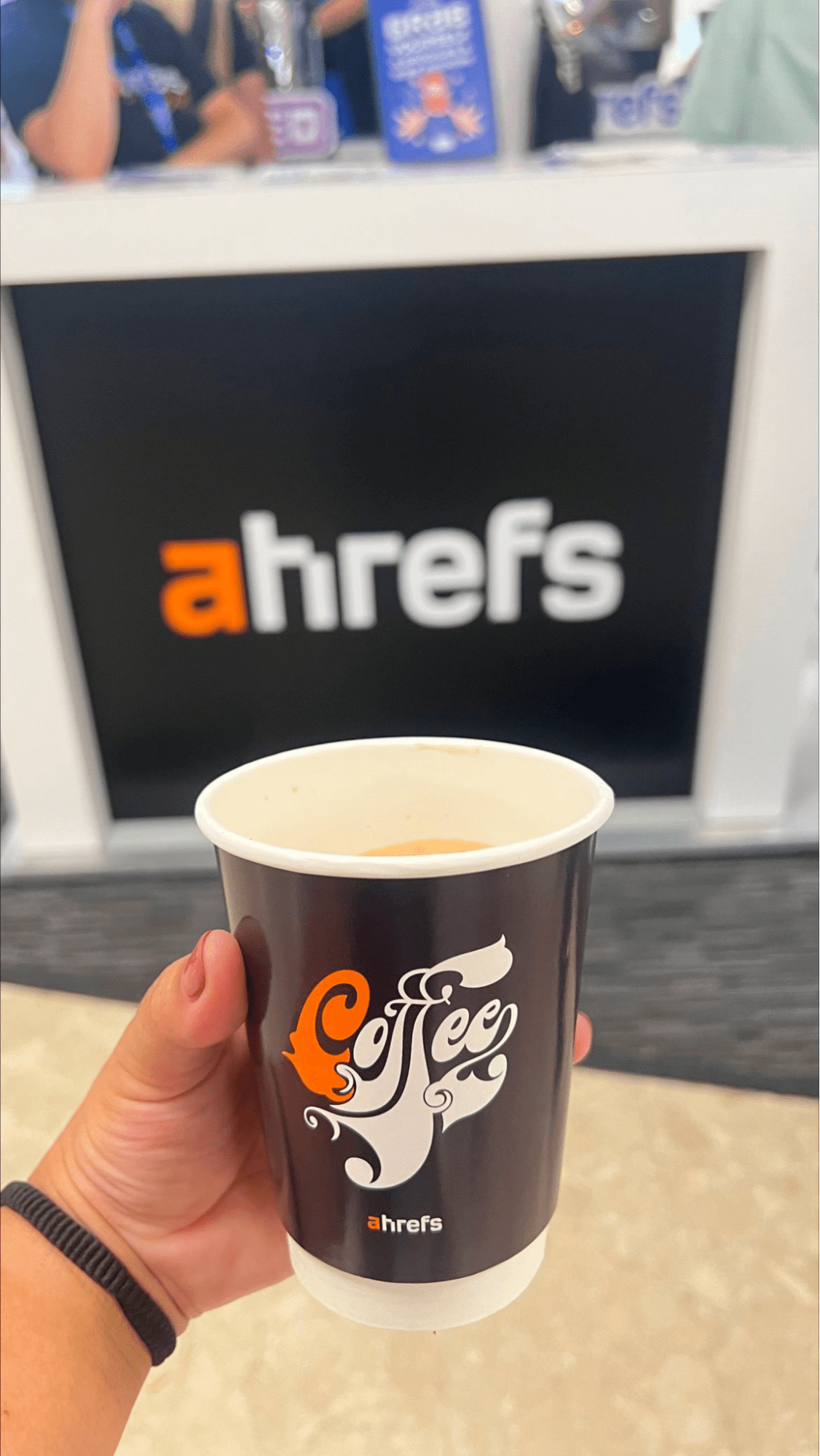 As well as the coffee, visitors to our stand could grab some Ahrefs swag: books, bags, T-shirts, bottles, stickers, and more.
Our beginner's guide to SEO book was one of our most popular items this time. We had so many requests that we had to limit the number of books for each day so everyone got a chance to get one.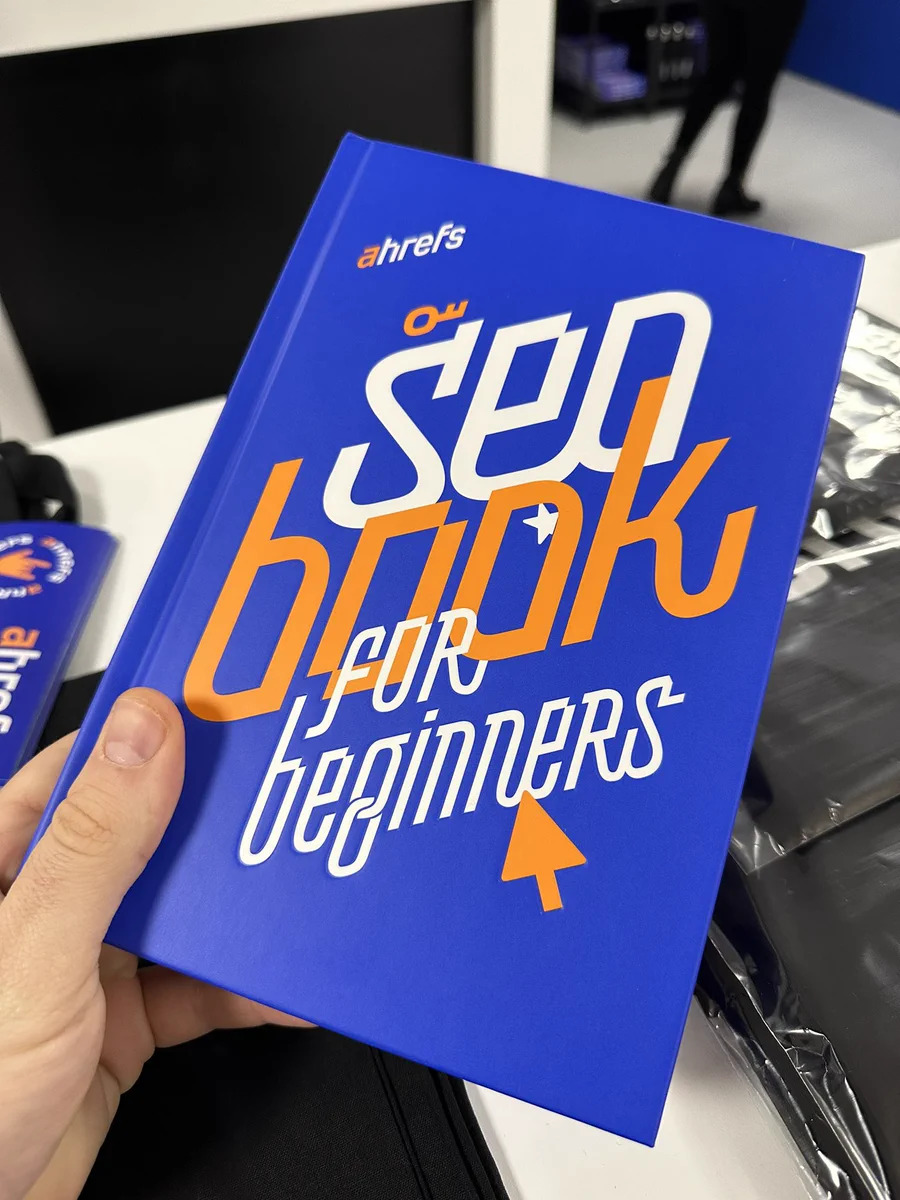 Our T-shirt was our second most popular swag item, and people were proud to share that they got one on social media.
As well as giving away lots of fun stuff, events like this gave our team a chance to catch up with our customers face to face.
When the talks started, we had a chance to get into a few more in-depth SEO discussions with attendees.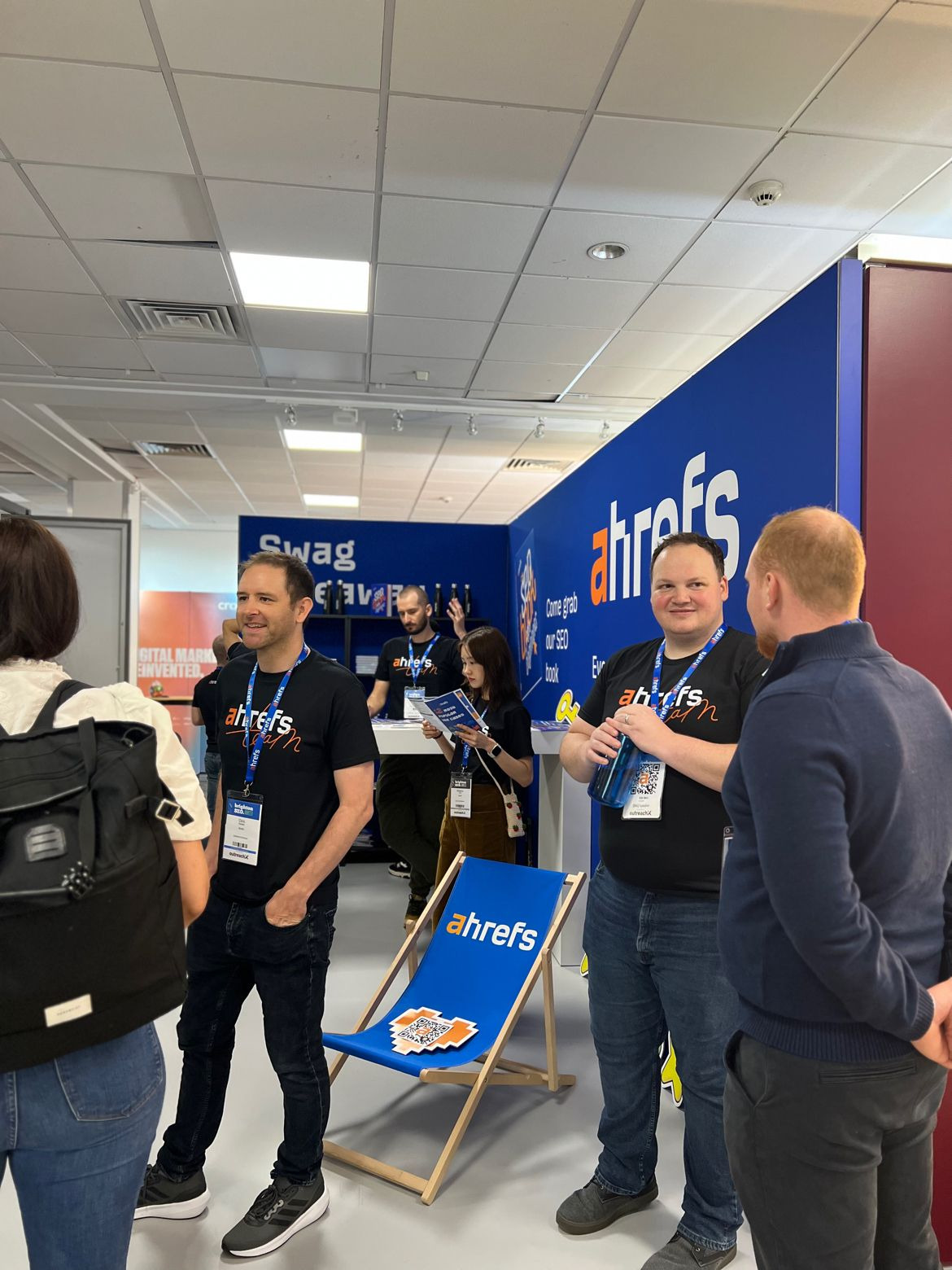 But it wasn't all SEO.
We had fun along the way, with a few attendees even brave enough to try our temporary tattoos.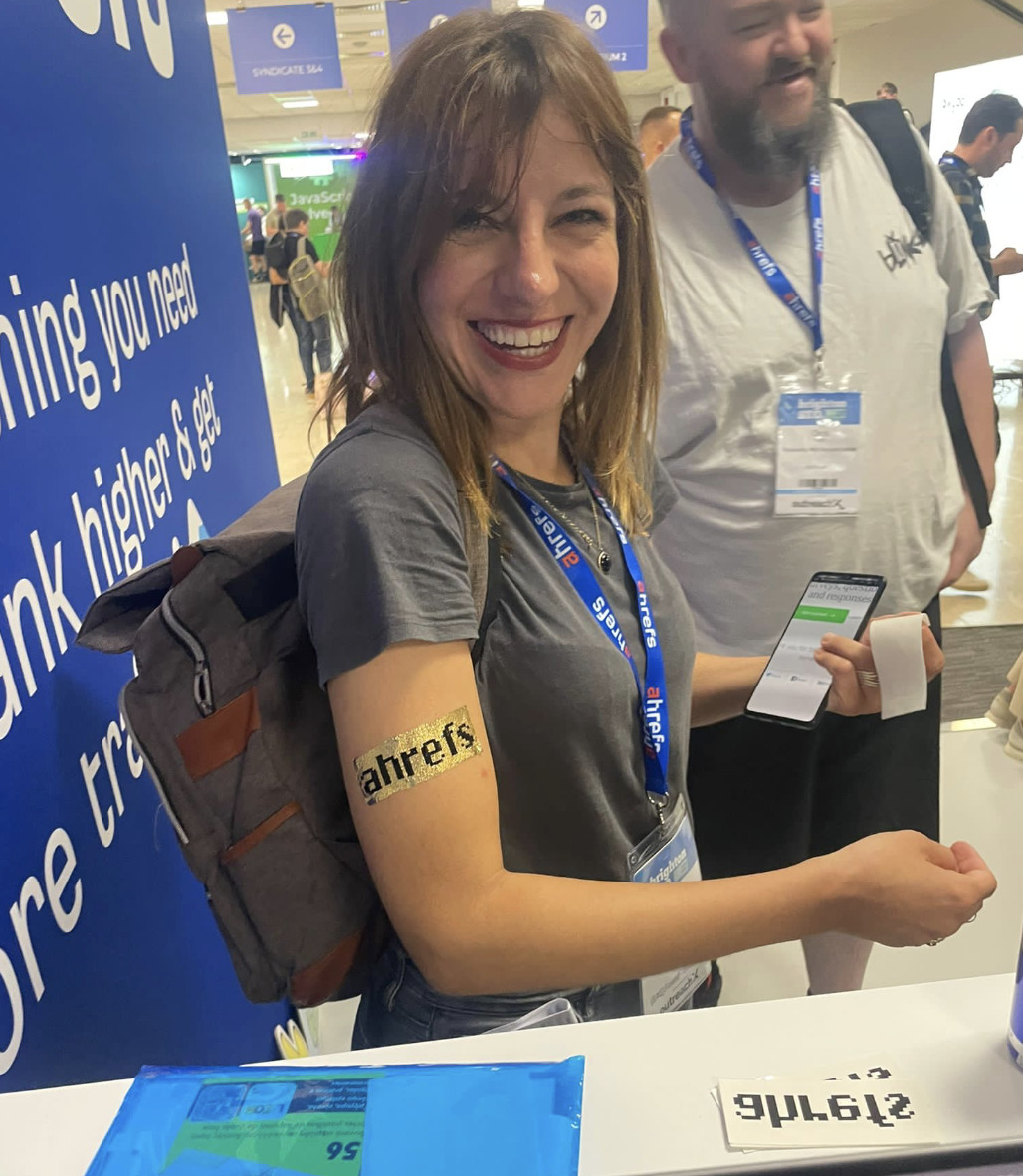 And the fun didn't stop there.
At one point, the Brighton "SEO Gull" appeared at our stand.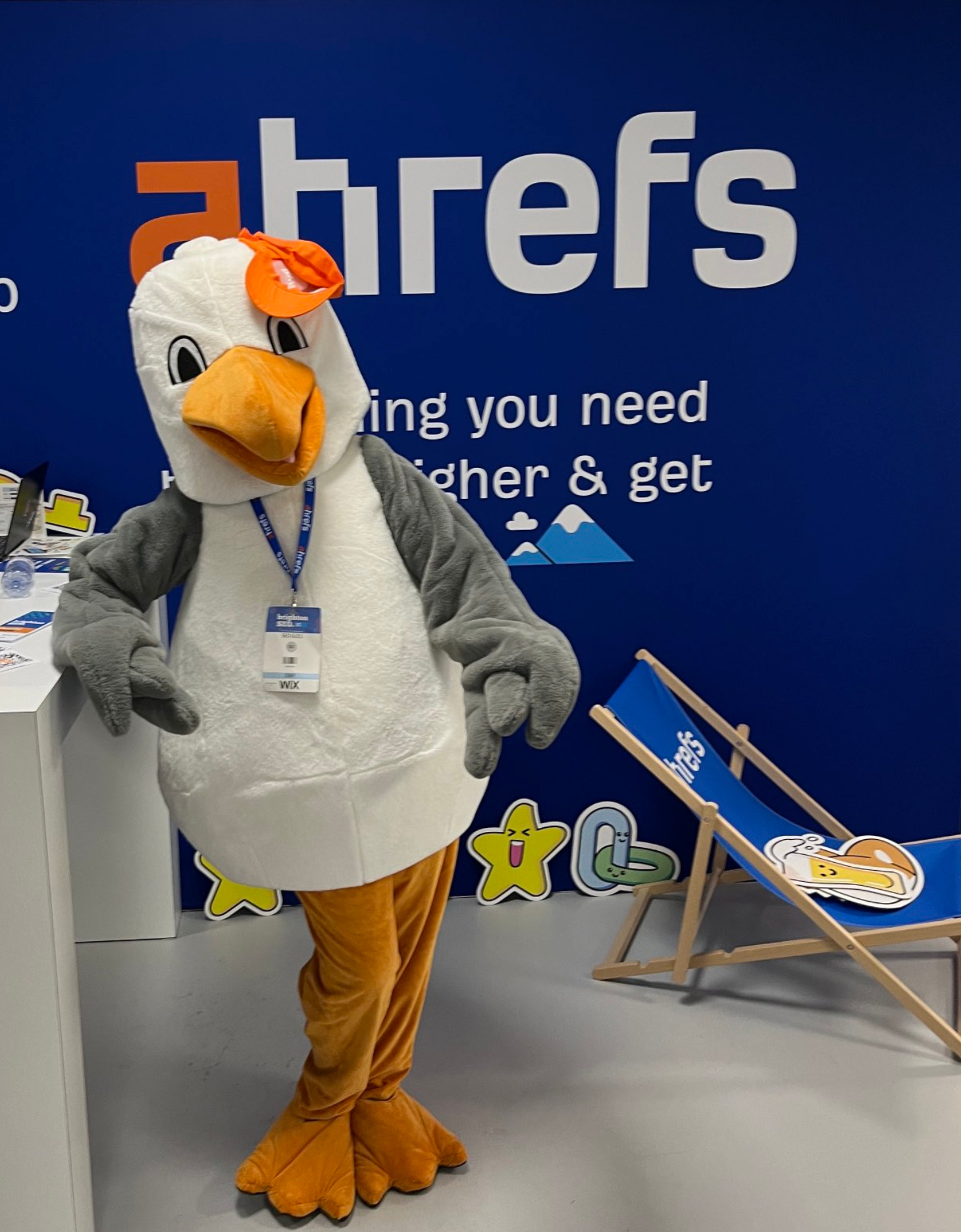 As well as SEO Gull, BrightonSEO had plenty of famous faces.
Here are a few more:
Technical SEO Consultant Oliver Mason even stopped by our stand with Will Kennard and Owain Lloyd-Williams. We didn't manage to snap him, but Will did later on (kind of).
Here are some of my favorite speakers from day one (a mix of newer speakers and industry veterans):
One of the most eye-catching exhibitors was BrightLocal's arcade stand. It was a fun experience, and we couldn't get some of the Ahrefs team off it!
Wix also had a really fun stand with a reaction game. When we approached its stand,
Crystal Carter
thought it would be a good idea to pit me against Joshua to see who could win a much-coveted can of Wix SEO beer.
With the stakes so high, Joshua's reflexes became like a bolt of lightning, and he won the can of beer in a single round.
Following a busy first day, the team gathered for a meal at the Salt Room.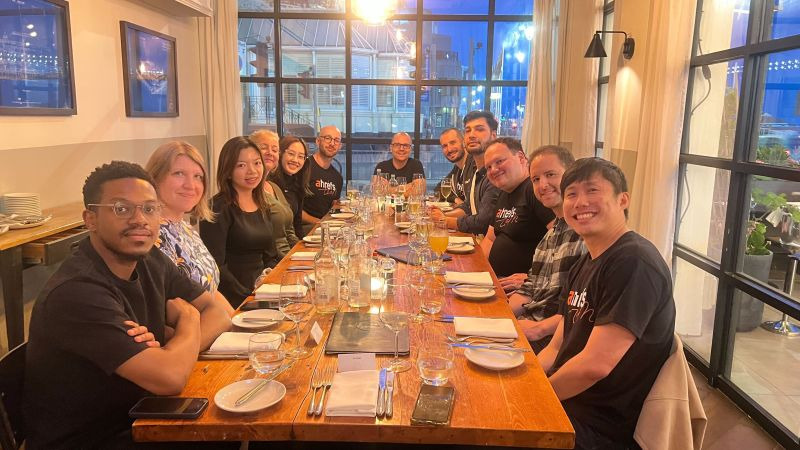 We then tried to grab a few hours of sleep before another busy day.
After restocking the stand, we were ready for day two. The sun was still shining, and the seagulls were squawking.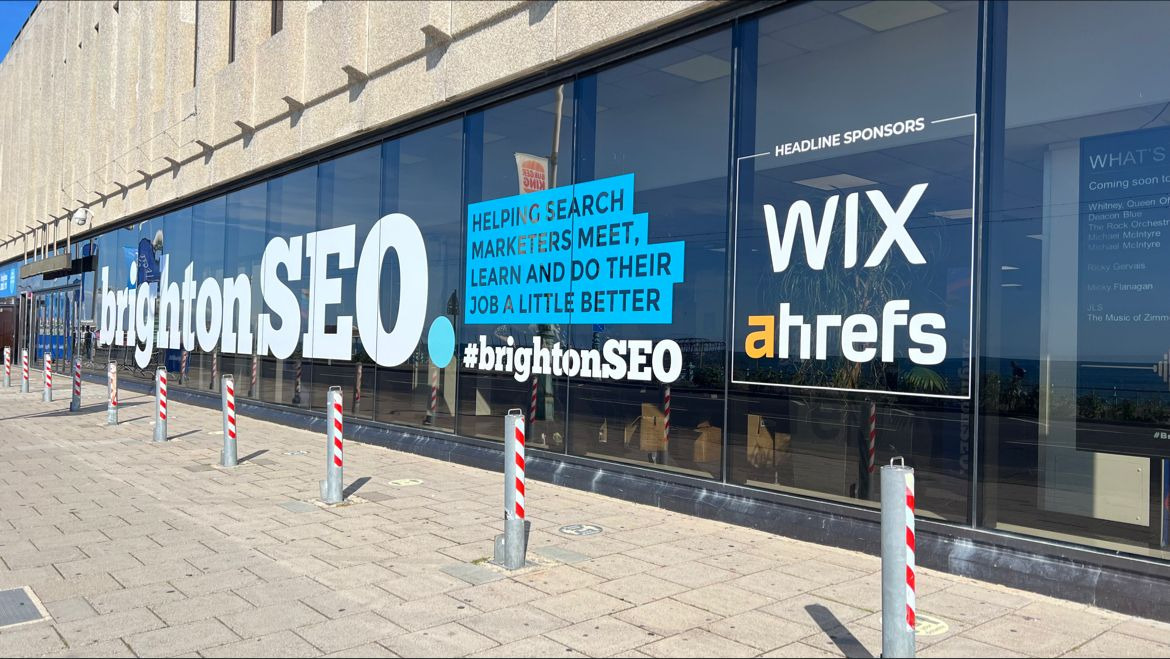 Our coffee stand proved even more valuable on the second day after various after-parties the night before.
Both Andrei Țiț and Patrick Stox were speaking on Friday, so it was a big day for our team.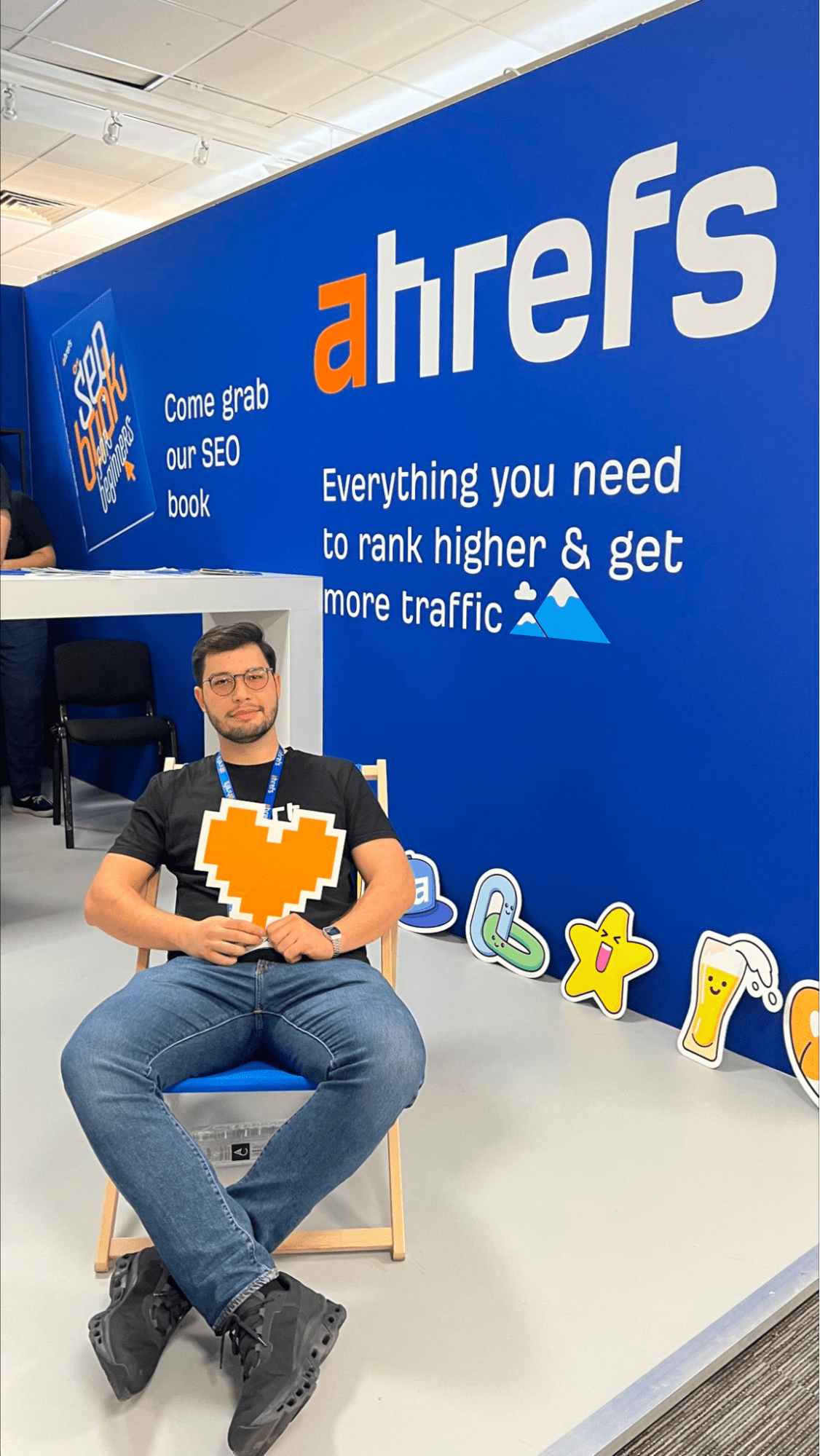 First up was Andrei. The room was so packed for Andrei's talk that we struggled to get in and see him ourselves.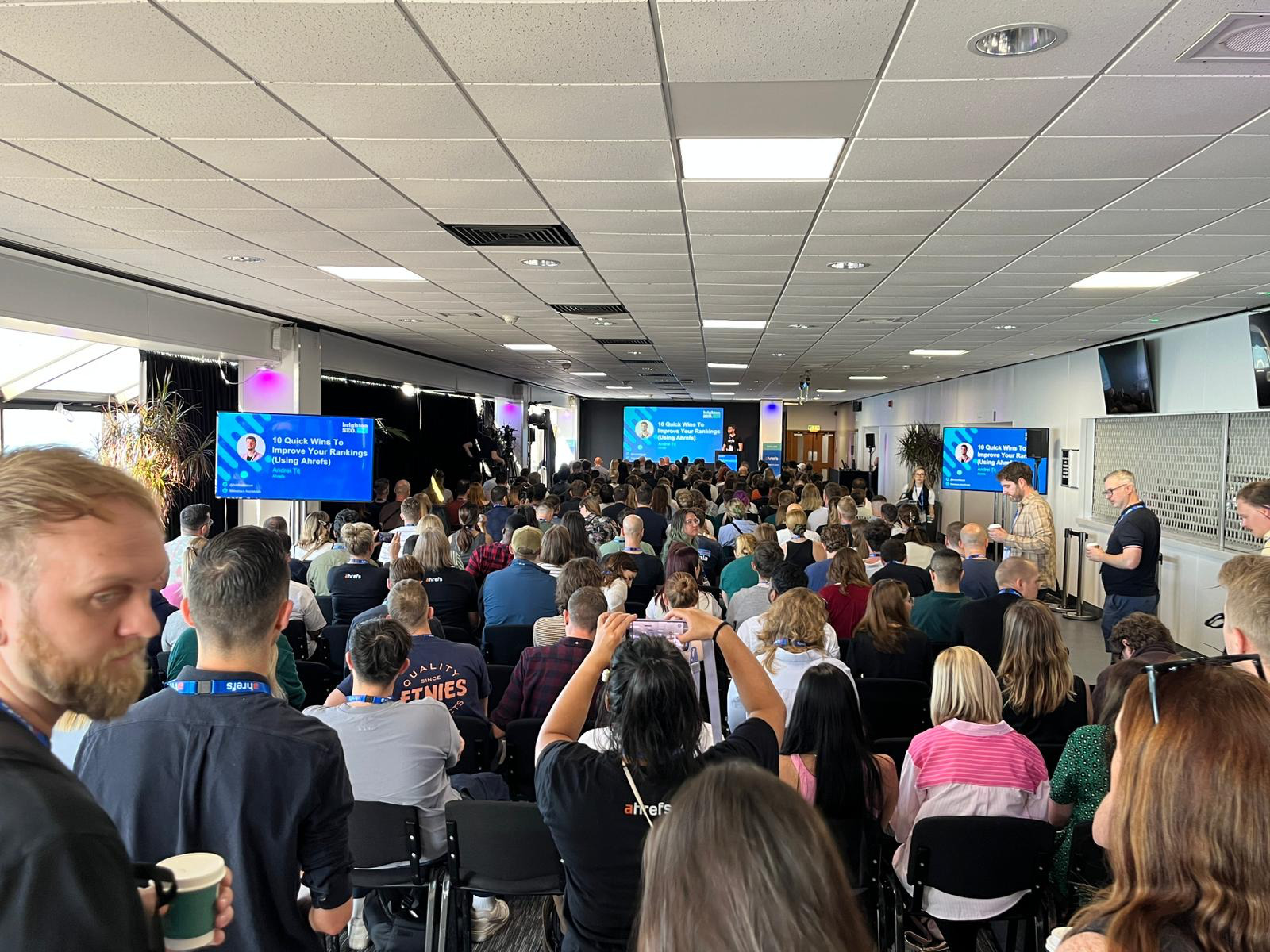 Andrei's talk was well received, and people asked for the slides at our booth almost as soon as it finished.
Next up was Patrick. If you know anything about technical SEO, then you'll know who he is.
Patrick flew out all the way from Raleigh, North Carolina. But despite the long journey, he brought bucketloads of energy, expertise, and passion to BrightonSEO.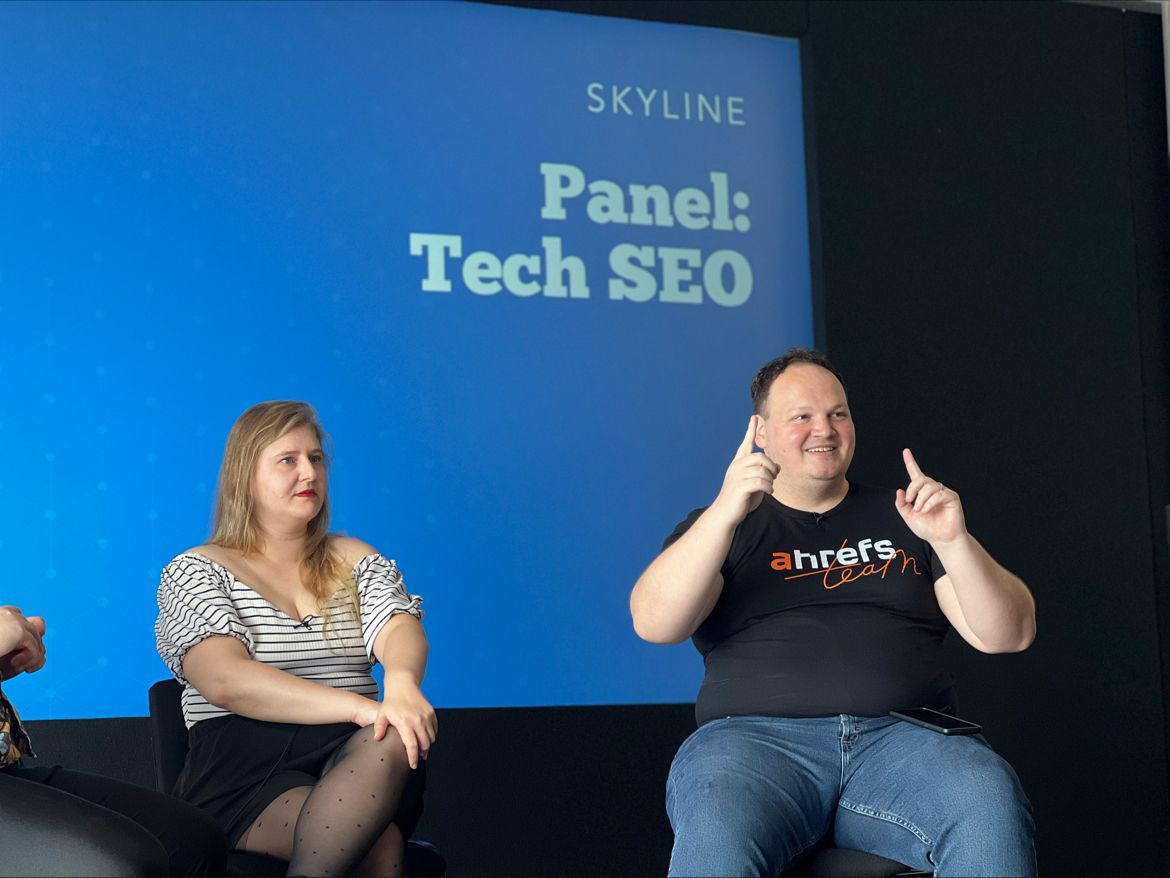 As well as moderating the Tech SEO panel, Patrick presented his recent hreflang study.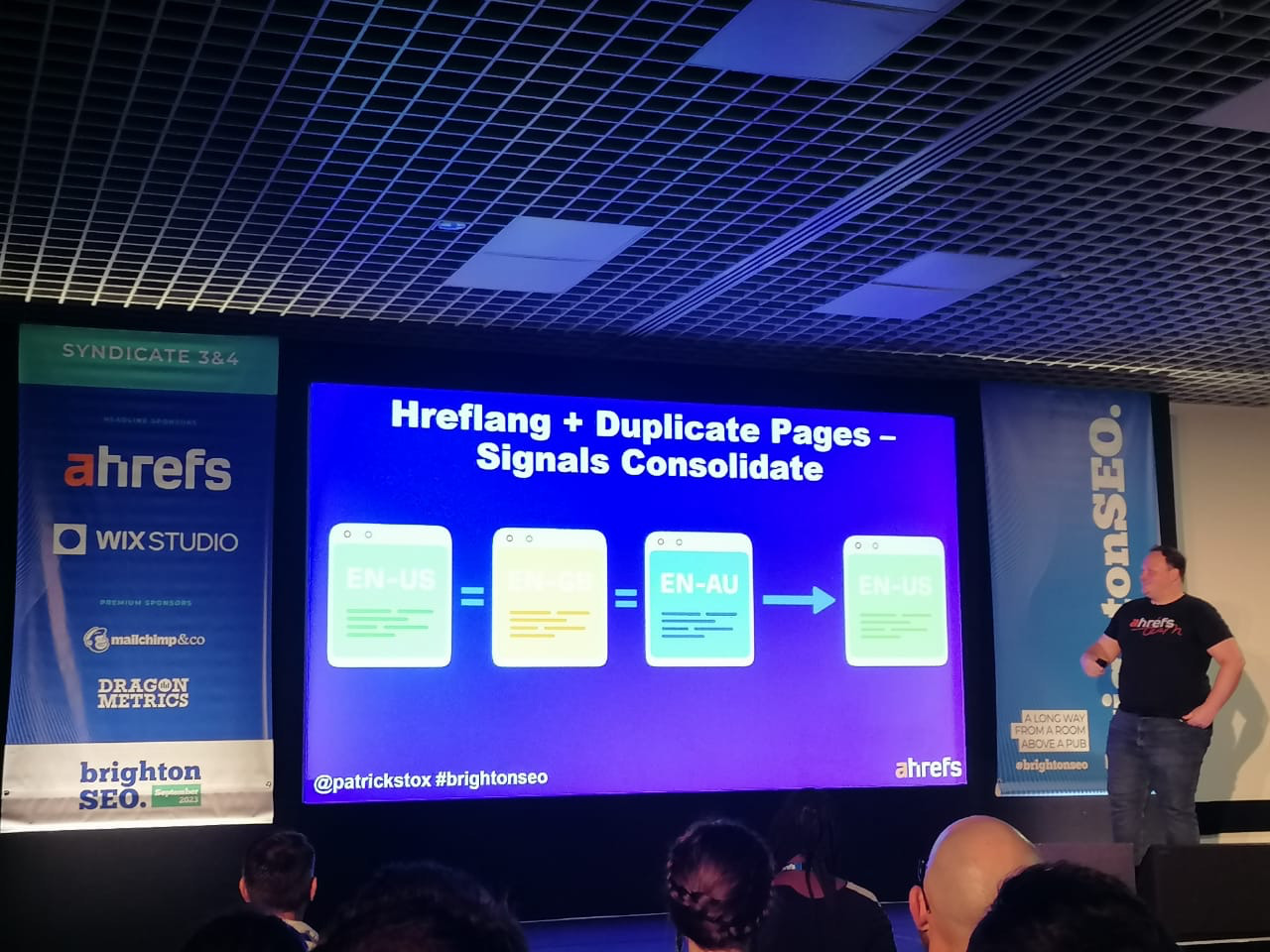 We were spoiled for choice when it came to great speakers this year. You only need to click through the talks to see they're the who's who of SEO.
Here is a sample of some of my favorite speakers from day two (a mix of newer speakers and industry veterans):
Final thoughts
Seaside, sun, SEO, and good times. What more do you need?
BrightonSEO is one of my all-time favorite SEO conferences. If you haven't been yet, it's worth a visit to learn more about SEO (and have some fun).
Got questions? Ping me on X (Twitter).
[ad_2]