Create original, human-like content in 1 click!
If you're an entrepreneur, marketer, or writer, you know how time-consuming & expensive content writing can be.
What if there's an AI writing assistant that does the heavy-lifting for you?
Introducing WordHero — an AI writing tool that helps you write high quality blog articles, social media captions, emails, ads, sales copy, product/SEO descriptions, marketing ideas, and even poetry and song lyrics — in just 1 click!
Create original blog articles, social media content, emails, and more - in just seconds
30,000+ writers, marketers, and business owners love generating AI-powered content
At-a-glance
Best for
Alternative to
Features
Overview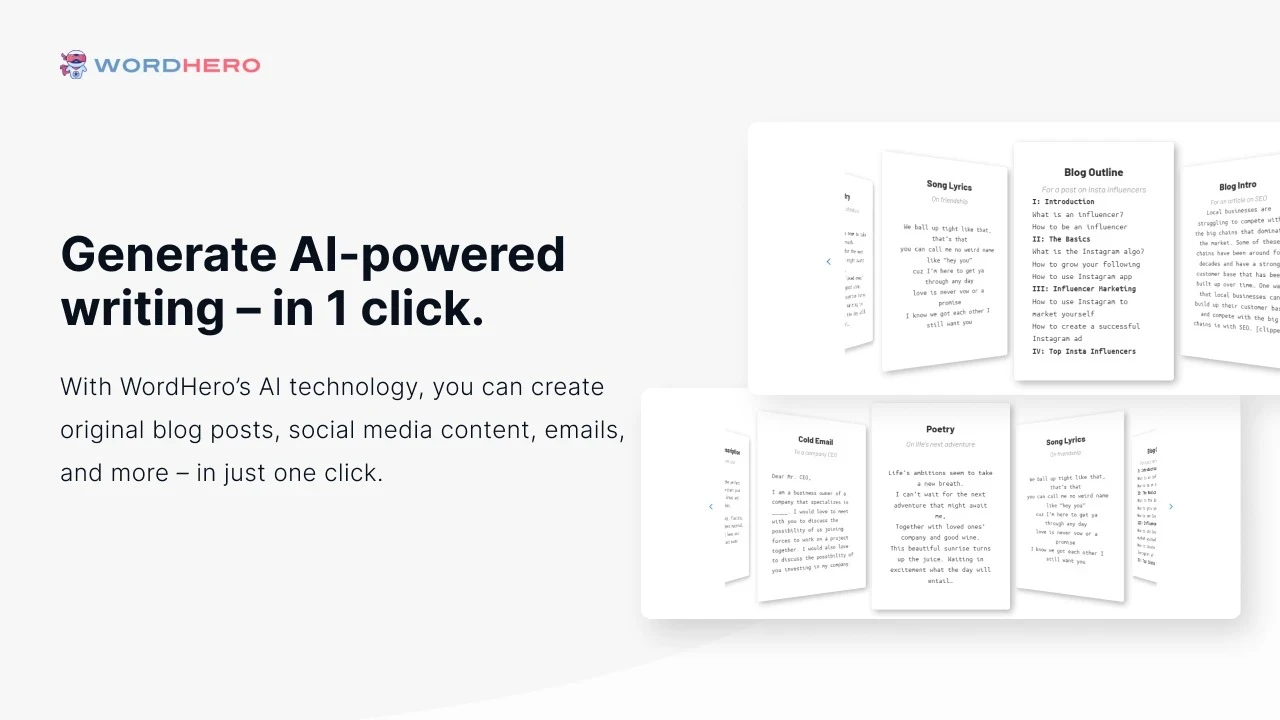 In one click, generate AI-powered writing for whatever your use case is.
✔️ Generator Mode
Instantly construct short-form content using 80+ writing tools across a variety of use cases.
We're always adding and updating our tool to make it better than ever.
✔️ Editor Mode*
Craft long-form content seamlessly and save it directly within WordHero - no more hassle!
*unlock with 2 codes
In mere seconds, you can generate plagiarism-free, human-like content using our powerful AI.
✔️ WordHero Chat*
Experience our innovative AI chatbot, creating human-like conversational dialogue for easy content creation!
*unlock with 3 codes
Check out these actual examples of WordHero in action.
Upgrade your text composition experience!
Embrace creativity like never before and paint pictures with words!
Constantly updated to match the rapid pace of AI developments, WordHero is an indispensable asset in your creative toolkit. 🧰
Here are 3 of the many great reasons why you should start using WordHero today.
Experience the powerful convenience of WordHero — this could either be the best lifetime deal you've EVER purchased 🙌 or the most heartbreaking deal you've ever missed. 💔
P.S. This copy was written with the help of WordHero.
P.P.S. GRAB this deal before it ends!
Plans & features
Deal terms & conditions
Lifetime access to WordHero
All future Pro Plan updates
If Plan name changes, deal will be mapped to the new Plan name with all accompanying updates
You must redeem your code(s) within 60 days of purchase
Stack up to 5 codes
GDPR compliant
Previous AppSumo customers who purchased WordHero can buy more codes to increase their feature limits
Previous AppSumo customers will be grandfathered into the new feature limits
60 day money-back guarantee. Try it out for 2 months to make sure it's right for you!
Features included in all plans