Hookle is an AI-powered social media management app that helps you create, schedule, and monitor all your social accounts in one place.
Turn your ideas into social media posts with the help of Hookle's AI writer—and finally break up with writer's block!
When drafting your post, Hookle automatically adds emojis and relevant hashtags to get more eyeballs on your content.
You'll be able to generate posts with URLs to promote your ecommerce products, articles, landing pages, and booking pages across all your accounts.
And you've got access to millions of royalty-free Unsplash images that'll make your posts stand out in any crowded feed.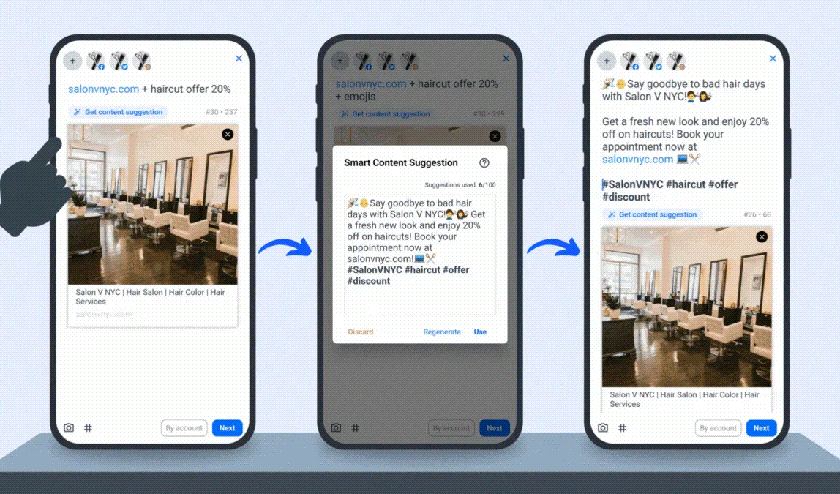 Turn a couple of words into an engaging social media post with your own AI writer.
Hookle supports all major social media platforms including Instagram, Facebook, Pinterest, Twitter, LinkedIn, and even your Google Business profile.
You can create large batches of content in record time and schedule posts in advance, freeing you up to focus your attention on other tasks.
And because you'll be able to add multiple accounts from each platform, it's easy to work with multiple brands.
Schedule your posts in advance across multiple social media accounts.
It's also a cinch to manage your social media calendar using Hookle's beginner-friendly Planner module.
This module lets you duplicate posts, adjust scheduling, and customize posts for each platform, giving you full control of your content.
Thanks to the post aggregation feature, you can schedule and handle all your social accounts as a unified post for super seamless planning and social media publishing.
Manage your social media content schedule with Hookle's user-friendly Planner module.
Hookle's statistics allow you to track performance for every account, including post count, reach, and engagement.
You can view metrics for individual posts to see what's landing with your followers and what's flopping like a fish out of water.
Want a more high-level view? This platform will generate a single score so you're able to assess the health of all your accounts right from the dashboard.
Track performance across all your accounts at once—including individual posts!
When you're competing with every other user on the planet, you need to post content that hits, every time. ("So my vulnerable LinkedIn post flopped but my Barbie tweet went viral? Noted.")
Thankfully, Hookle can generate click-worth social content, and then schedule and track its performance for you.