Verifying email addresses in bulk has never been this simple. With our email verification service, you can clean up your email lists within minutes. Our unique email validation system can provide results with more than 99% accuracy.
With our Email Verifier you can:
Validate email addresses in bulk without sending any emails.
Clean up your email lists with great accuracy.
Verify emails from Gmail, Yahoo, Microsoft other domains.
Stop wasting money on temporary/disposable addresses.
Reduce the bounce rate of your email campaigns.
Protect the sender-reputation of your domain and server.
Verify users' email live during their registration in 0.5 seconds.
Unique things about Reoon Email Verifier:
Can detect soft bounces like storage full or account disabled etc.
Can detect temporary emails dynamically to catch the latest domains.
Can verify most difficult services like Yahoo and Microsoft.
Quick API Validation can verify emails live within 0.5 seconds.
Say hello to Reoon Email Verifier.
Email verification tool makes it super simple to verify or validate your email list without sending any email
Gmail, Microsoft's Email, Yahoo, and almost all other custom domain emails can be verified
At-a-glance
Best for
Marketers
Marketing agencies
Alternative to
Integrations
Features
Overview
Account Overview of Reoon Email Verifier
We provide two different types of verification credits:
Lifetime Credits: These credits are also called instant credits. These are the credits that never expire. You can use these credits whenever you want and keep them on the account as long as you want. However, these type of credits does not renew automatically unless you purchase them again.
Daily Credits: The daily credits are the credits that renew/reset everyday for as long as subscribed. However, the daily credits don't stack. When both types of credits are available, the daily credits will be used first. For the AppSumo customers, the allocated credits will renew/reset everyday for the lifetime.
The lifetime credits are not capped by the daily credits limit. One credit means one successful verification. Unknown results get automatically refunded.
Bulk Email Validation - Upload your email list and verify them all together.
Single email validation will allow you to verify an email address quickly from the dashboard. You can get details information on any email address instantly. The following validations are performed for both single and bulk email validation:
MTA Validation of Domain.
SMTP Validation of Individual Address.
Dynamic Disposable/Temporary Email Detection.
MX record extraction and validation.
Individual inbox status detection.
Role account detection.
We provide full details so you can understand the precise condition of each email address.
Online Based - Everything runs on our server.
Our email verification system will allow you to verify the list of email addresses in two ways.
Direct Submission: You can simply copy-paste the list of your email addresses on the web application. Your provided email addresses will be verified one by one within minutes. After the verification, you will get the full report and will be able to download the results in CSV/Excel file.
File Upload: You can also upload your CSV file directly to our web app. The provided file will be validated automatically while keeping the original columns and rows unchanged. Some new columns will be added with all the necessary verification details.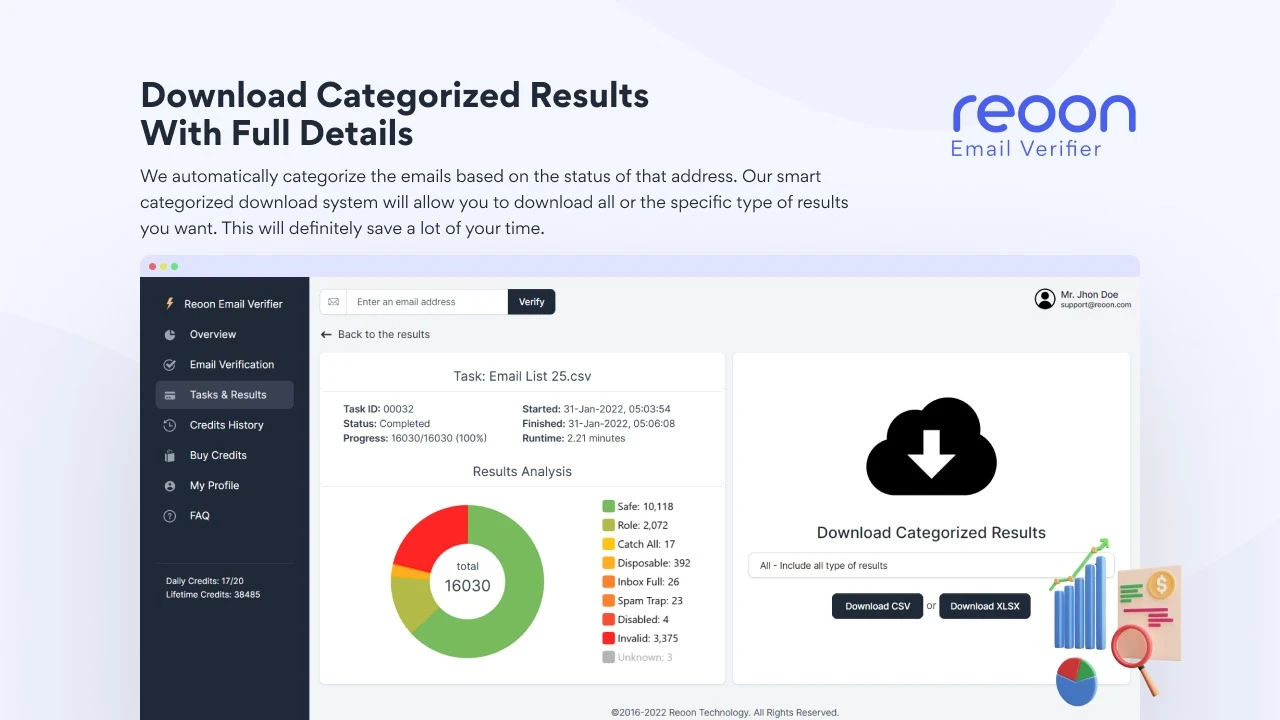 Results Analysis - Get the full report of bulk validation and download results.
An in-depth analysis report will be shown on the task page, where you can find statistical details of the emails from different categories. You will be able to find out, what percentage of emails are safe, and what percentage of emails are not safe.
The result download section will be available once the verification completes. The email lists are segmented automatically based on the status of individual email addresses. You can download emails of a specific status, or you can download them all together.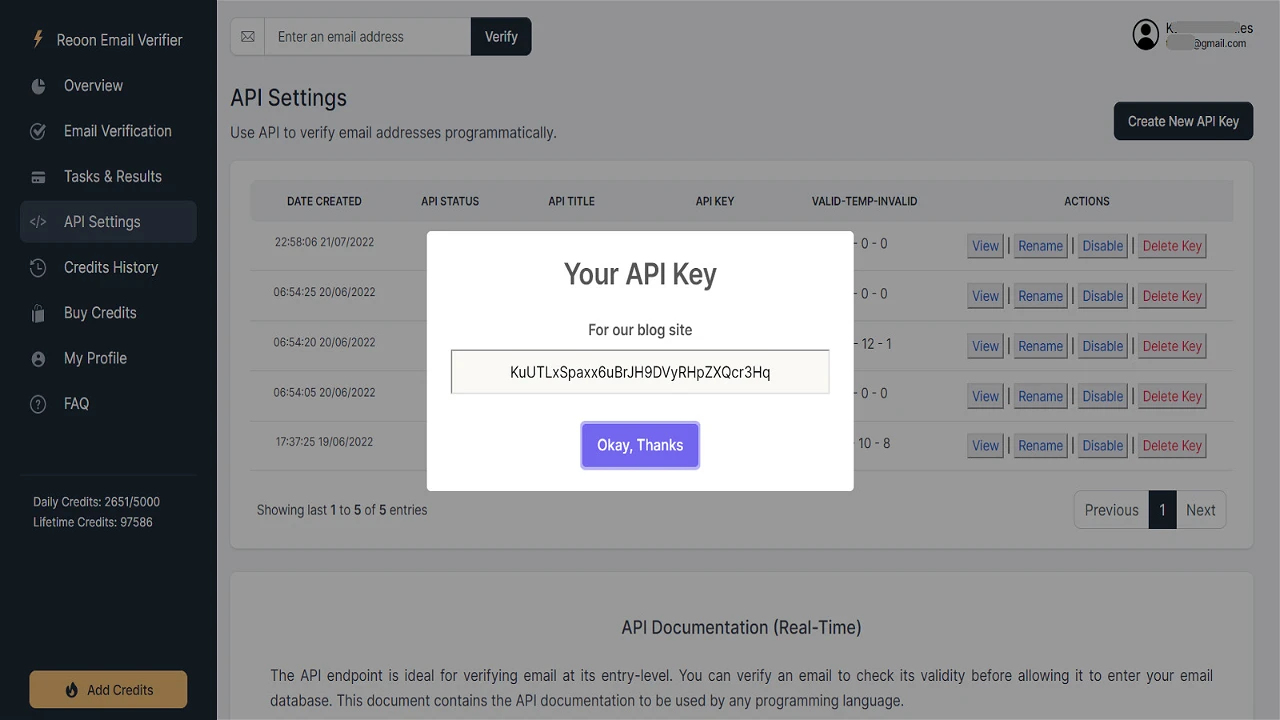 API Key - Create and manage multiple API keys with a few clicks.
We provide API support with two different modes.
The QUICK mode can verify and email within 0.5 seconds. Which makes it ideal for verifying the email of your customers during their registration without keeping them waiting. On the other hand, the POWER mode can provide an in-depth analysis of an email address. Note that, API implementation requires technical knowledge of programming. The API can also be used with 3rd party integration services like Zapier or Pabbly Connect (some technical skills required). Some other apps may natively support direct API integration.
WordPress Plugin is also available for anyone using WordPress site with supported Forms. The plugin can verify email addresses during the form submission and protect the site from invalid or temporary emails. Please contact our support to check if your website is using a supported WordPress form and get access to the WordPress Plugin for your site.
Plans & features
Deal terms & conditions
Lifetime access to Reoon Email Verifier
All future Reoon Email Verifier Daily Credits Plan updates
If Plan name changes, deal will be mapped to the new Plan name with all accompanying updates
You must redeem your code(s) within 60 days of purchase
Stack up to 5 codes
Previous AppSumo customers will be grandfathered into the new feature limits
Previous AppSumo customers who purchased Reoon Email Verifier can buy more codes to increase their feature limits
60 day money-back guarantee. Try it out for 2 months to make sure it's right for you!
Features included in all plans
Single and bulk email verification
Verify Gmail, Yahoo, Outlook, and other custom domain email addresses
Dynamic temporary email detection for highest accuracy
MTA validation of domain
SMTP validation of individual address
MX record extraction and validation
Individual inbox status detection
Role account detection