Unleash your marketing power with Easy Text Marketing (ETM) - your key to effective text marketing! Engineered for one purpose: put the full force of SMS marketing at your fingertips.
Inside ETM, you'll find the best texting features available. Craft messages effortlessly, design striking coupons & QR codes, and get any time access with our cloud-based platform.
ETM is focused on establishing stronger relationships and boosting profits by integrating powerful features ensuring your marketing strategy rocks.
We've integrated features like loyalty programs and text funnels, recognizing their impact on customer relationships.
ETM helps you reach your target audience, keep them informed of your latest offers, and spark interest in your products.
With 15 million texts sent per minute, text messaging is the prime communication method. SMART business owners understand the money is in the text list. Whether you're seeking an easy & affordable SMS marketing solution or a simple way to text your customers, ETM has your back.
Ideal for agencies and business owners seeking an affordable way to build SMS marketing lists to increase sales and foster relationships.
An easy-to-use text marketing platform designed for people who want an easy way to share their message with the world
Connect with customers, clients, and prospects using SMS, MMS, SMPP, email, voice, and even fax
At-a-glance
Best for
Marketers
Marketing agencies
Solopreneurs
Alternative to
ActiveCampaign
Mailchimp
Twilio
Integrations
API
Pabbly Connect
Twilio
Webhooks
Zapier
Features
Overview
Watch this walk-through to see how easy it is to build lists, create coupons and more!
Our platform connects with the top SMS Gateways in the world!
Like every smart business owner, you want an effortless way to build your list, chat with customers, and send targeted text campaigns—all without outrageous fees.
Now you can with Easy Text Marketing.
Our user-friendly SMS platform is designed for businesses who want to easily share messages and connect with their audience.
Use our two-way messaging to engage customers, clients, and prospects through SMS, MMS, email, and voice broadcasts. Choose what works best for your goals.
With a wide range of top gateways like Twilio and Telnyx, plus powerful features like chatbots, polls, contests, and more, our platform has everything you need to take your text marketing to the next level.
Seamlessly integrate with your favorite email services like MailChimp and convert contacts into loyal followers.
Take control of your communications. Grow your list. Boost engagement. Drive more sales. With Easy Text Marketing, effective text campaigns are now simple and affordable because you connect directly to gateways like Twilio & Telnyx for wholesale rates.
Use Webhooks to connect with Pabbly Connect & Zapier or user our Powerful API to create custom integrations!
Equip your text marketing with all the essential features you need. Our platform includes unlimited keywords, unlimited contact lists, and built-in CTIA compliance to keep you up-to-date on SMS regulations.
Feel confident knowing we handle proper disclaimers, opt-in/opt-out subscriber management, and compliance with regulations. Of course, always check with legal authorities on marketing requirements.
Put your business on autopilot by integrating our powerful SMS API with your favorite platforms.
Take your text marketing further with our suite of rockstar features like branded QR codes, short-link generator, polls, text funnels, and more.
Captivate customers by embedding SMS forms into your sales funnels to seamlessly collect numbers and build your list.
With the addition of our kiosk builder and SMS loyalty programs, you have the ultimate toolkit for text marketing success.
Our platform equips you with everything required to elevate your SMS strategy. All that's missing is you!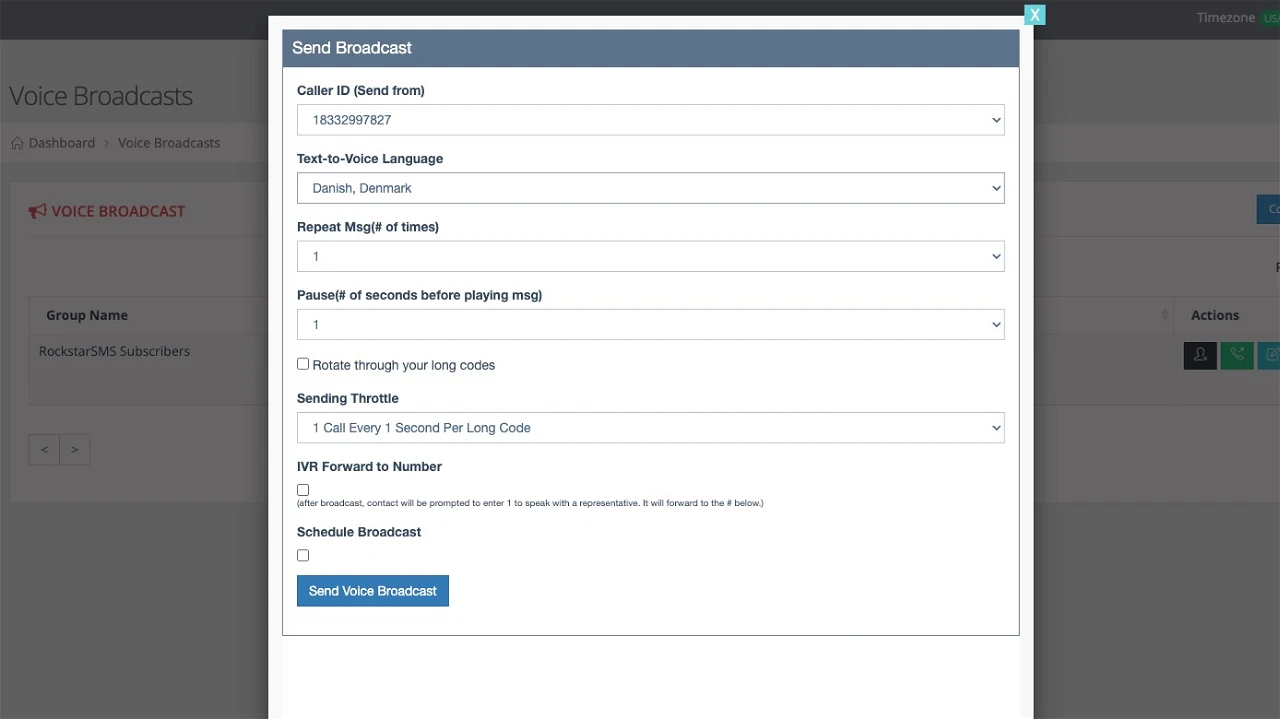 Send voice broadcasts in 26 different languages or upload an mp3 file, so your clients and prospects hear YOUR voice!
Want more customers calling you? Send professional voice broadcasts in 26 languages instantly. With one click, our system automatically calls your prospects and plays your personalized message.
Enable "Press 1 To Connect" - we'll ring you immediately when they respond! It's like cold calling without rejection.
Running a big sale? Promoting Taco Tuesday? Send a mass message now!
Captivate customers with stunning coupons, QR codes and loyalty programs easily created in our platform.
See key campaign stats in your dashboard. Put your message directly in your customers' hands.
This is the ultimate SMS marketing platform to grow your business. But you need to act fast!
Access now and tap into these powerful tools while this limited-time offer lasts! Don't miss out on more calls, more sales and more success.
Two-way sms chat gives you the power to text from your desk with customers without paying huge fees!
Conversations Close Deals
Our SMS Chat feature lets you have two-way text conversations with your contacts directly from your text enabled phone number. With SMS Chat, you don't have to worry about the legal risks of your team sending text messages from their personal devices anymore. Keep track of every conversation in a straightforward place.
Plans & features
Deal terms & conditions
Lifetime access to Easy Text Marketing Platform
You must redeem your code(s) within 60 days of purchase
All future Unlimited Plan updates
60 day money-back guarantee. Try it out for 2 months to make sure it's right for you!