BeHuman.Online is a high engagement, ultra low-cost virtual conference / expo / meetup platform.
Host engaging events where attendees freely mingle together on video. Add sponsors, exhibitors, and teammates to help you co-host.
Different from other platforms, link your Amazon AWS account to BeHuman.Online to use Amazon's ultra-low cost video conferencing between your event attendees. No "IT guru" needed with an easy to follow 2-minute setup.
Experience a demo of events on BeHuman.Online:
GreenTech Innovators Summit ⇨
Women in Leadership Conference ⇨
Remote Work Job Fair ⇨
Host memorable events you'll forget are virtual
100% web based -- the more secure way to meet
At-a-glance
Best for
Event organizers
Online coaches
Remote teams
Alternative to
Integrations
Features
Overview
Easily incorporate live streams from various sources, including YouTube, Vimeo, Twitch, or your own RTMP or HLS CDN.
Venue for Live Streams
Use BeHuman.Online as a venue to load in any number of live streams. You can load in live streams from YouTube, Vimeo, Twitch, or even your own RTMP or HLS CDN source, allowing you to create engaging events that seamlessly combine live streams and virtual interaction.
Virtual Lounge
The lounge offers attendees a virtual space to connect and network with each other in a casual, yet professional setting. This feature is ideal for alumni association meetups, industry mixers, and other events where networking is essential.
In the virtual lounge, attendees can create their own profiles, join discussion groups, and even have private video conversations with each other. This feature adds a layer of personalization and engagement to your event, leading to higher attendee satisfaction and more successful events.
Lounge circles with up to 25/circle on video.
Low-Cost Video Conferencing
BeHuman.Online is the only virtual event platform that allows hosts to use their own Amazon Web Services (AWS) API key to access Chime video conferencing, providing a low-cost solution for engaging virtual events and exhibitions.
As of May 18, 2023, Amazon Chime rates are $0.0017/attendee/minute, or $0.102/attendee/hour, billed in 6-second increments directly by Amazon. Pay only for what you use.
Read about BeHuman.Online & AWS ⇨
In addition to the ability to host virtual events at the source cost for video conferencing, BeHuman.Online provides hosts clarity on where their attendees' video calls are handled - video calls are routed from the host's Amazon account, adding privacy and security.
Create a unique multi-page booth unique with full control over pages and content.
Customizable Exhibitor Pages
Customizable exhibitor pages offer an engaging and interactive platform for sponsors, exhibitors, and partners to showcase their products and services. These pages not only enhance their visibility and generate leads but also enhance the overall attendee experience.
The platform makes it easy to add images, videos, and marketing materials to each exhibitor page, allowing you to track engagement and follow up with leads.
Read about Expo pages on BeHuman.Online ⇨
Use Pages to Deliver Content
Beyond company exhibitor pages, these pages can be used to deliver a knowledge base of content -- great for course content, or a corporate knowledge base.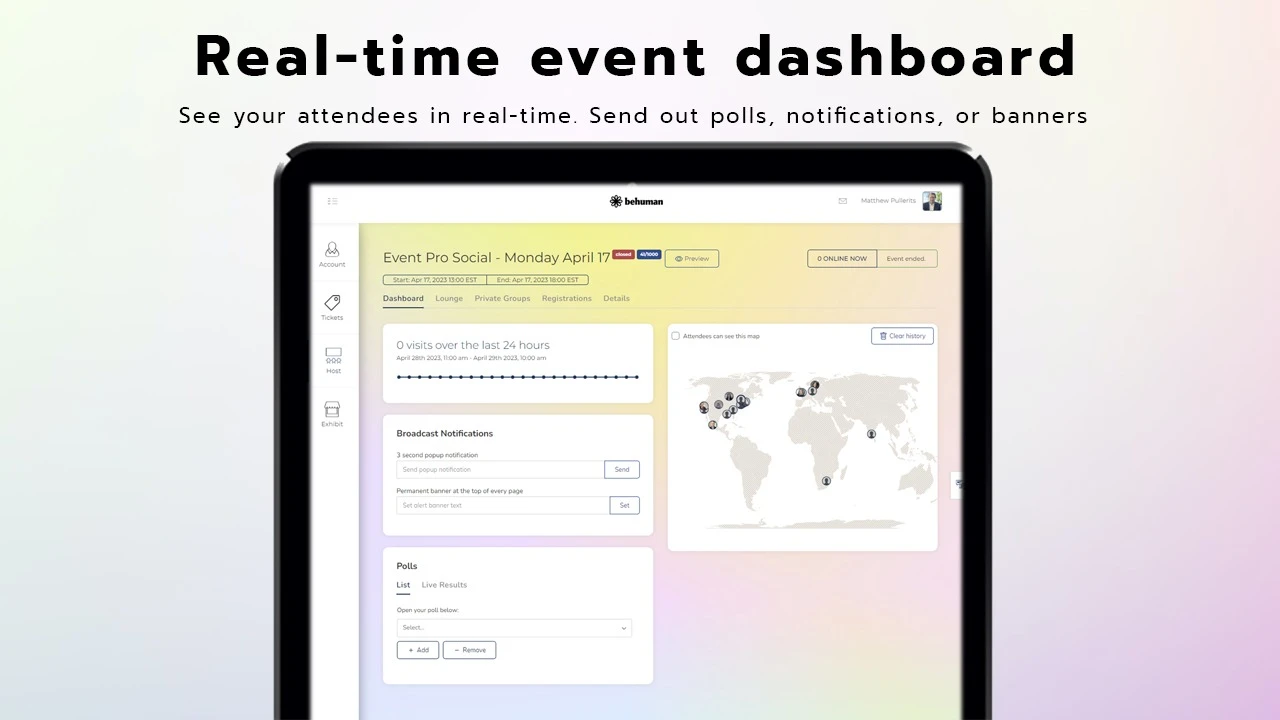 Instant event insights at a glance, with comprehensive live event management.
Co-Host With Your Team
Easily add co-hosts to each event to help you manage things. Co-Hosts need their own Host account. Consider purchasing multiple lifetime deals to bring your team together on unlimited future events!
Crafted with simplicity in mind, manage events effortlessly.
Focus on what matters – memorable events for your attendees
Get access to BeHuman today!
Plans & features
Deal terms & conditions
Lifetime access to BeHuman.Online
You must redeem your code(s) within 60 days of purchase
All future Host Plan updates
Please note: This deal is stackable
60 day money-back guarantee. Try it out for 2 months to make sure it's right for you!
Features included in all plans